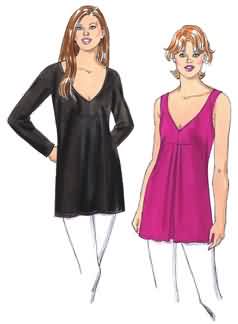 Which looks better in the model photo: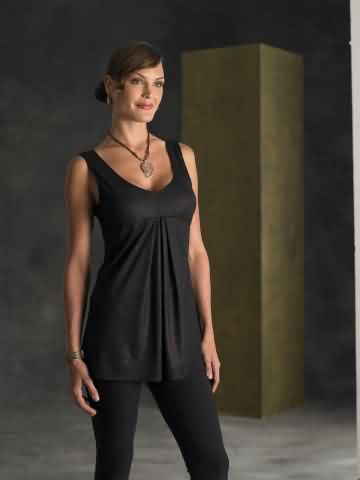 I have had this pattern for a couple of years and never sewn it. I was just worried if it would look too maternity-ish. Well, my worries were right, IMHO.
Here is the review and pictures to follow, you decide:
Pattern Description:
Misses´Tops, designed for stretch knits only with 35% stretch across the grain. Misses´pullover tops have deep V-neckline finished with self-fabric binding. View A has full-length sleeves and gathers at center front bust seam. View B is sleeveless with armholes finished with self-fabric bindings, and has tucks at center front bust seam.
Pattern Sizing:
XS, S, M, L, XL. I made size M.
Instructions:
As always Kwik Sew does an incredible job with instructions. Especially, with the pleats/gather portion of this top. It is a bit different construction process, but Kwik Sew has several steps and illustrations on the pattern sheet. This really eliminates confusion and allows success. The front is cut all in one piece with the gathers/tucks constructed first. Sew the center front, here is a picture, good stripe matching (took a couple of tries) but poor picture focus
Then you sew what resembles a dart to attach the top to the pleats/tucks. The ends of my dart are not the best:
Likes/Dislikes:
I liked the look of this top for me but not the fullness. After constructing it, the v-neck is very deep, so a dislike. The fullness is very "full", so go down a size if you are not sewing this style for maternity. Erin and I said this top will be one she will wear in the last trimester, it is so roomy right now.
Fabric:
A striped cotton/lycra from Hancock's
Conclusion:
I won't make this top again, I wasn't exceptionally thrilled with the results and I am certainly happy I hadn't made it for myself. It will be just fine for Erin during the later months of pregnancy and will be very comfortable.
Also, what do you think of Kwik Sew's photography?
Here is a picture for an email I received from the company today, not too impressive.
it is better in the line drawing
or do you like this one any better?
Don't get me wrong, I really like Kwik Sew patterns, they just would be much more appealing with better photography and fabric choices.