I have to show off this modern quilt Meredith completed recently, it is Tula Pink's
Modern Alphabet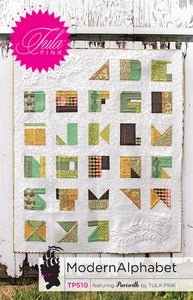 Meredith's quilt is brighter and I love the waves quilting the longarm quilter used
Here is a close-up of the quilting:
and a close-up of a few letters:
D through M
The fabric is
Anna Maria Horner's Field Study
and it is gorgeous. Meredith's favorite one? The leopard print followed by the feathers.
The main tip on this quilt we have is to use lots of plastic sandwich bags. I cut it out for Meredith and put one letter per bag with the letter in marker on the outside of the bag. I have to admit I did cut a couple letters out wrong and had to recut for her. That is a lot of cutting!
Meredith did a beautiful job and I have been trying to encourage her to start a blog but she isn't too interested yet. I do want to document her quilts and put them out there for people to see. I think she does such a nice job and she is bitten by the quilting bug!
I do need to get her to bind them, that is my job right now and she is keeping me busy.