I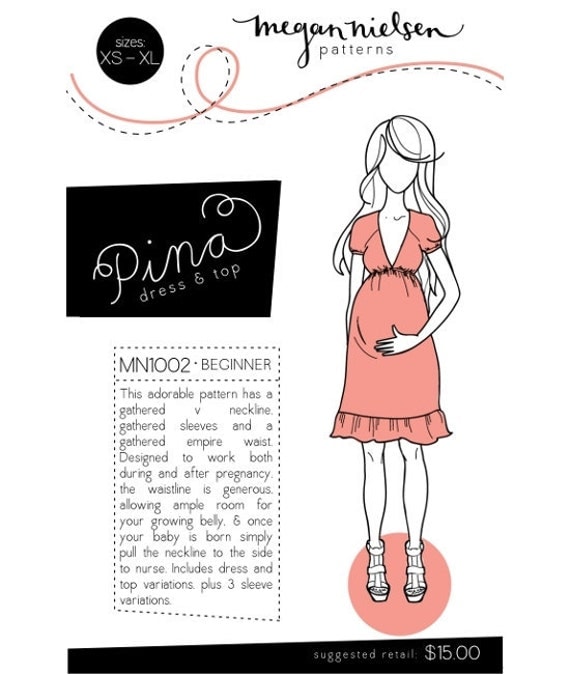 This is an old picture from the internet, the pattern is now $20.00
Description:
Sewing pattern for this incredibly comfortable maternity & nursing dress or top. It has a gathered v neck, gathered sleeves and a gathered empire waist.
The pattern includes instructions on how to make a top, a dress with ruffled hem or a dress without ruffled hem, short sleeves, 3/4 length or long sleeves. It's an entire wardrobe in one pattern! The waistline is generous, allowing ample room for your growing belly.
Sizing:
XS to XL
Instructions:
Megan's patterns come with the best little booklet of instructions and pattern variation ideas. This pattern can be for the beginner to more advanced. One thing I really liked is how she has you lay out the bodice pieces before sewing. A nice visualization for constructing a raglan sleeve type bodice.
Changes:
I lengthened the sleeve to 3/4 per Megan's instructions in the booklet. At the first of the booklet, she has illustrations with all the variations. Under each illustration, she lists how you need to cut that particular garment out. For example, if you want a 3/4 sleeve, lengthen by 9 inches (only short sleeve is included in the pattern sheet
Likes/Dislikes: I like everything about this pattern, from the instructions to elastic placement to the finished product.
Fabric:
Cotton lycra knit from Needle Nook, it is a wonderful print.
Conclusion
: A great pattern with many possibilities for changing it each and every time. I think this one will be worn quite a bit
Elastic at the neckline, empire waistline
Close-up of eleastic
Back
Front:
I hope you are not tired of maternity sewing, because I have about 8-10 more items to do!