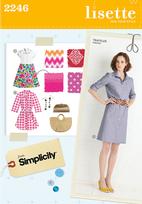 Pattern Description:
Fitted and semi-fitted shirtdress with varied sleeves and hems
Sizing:
6 to 22, I made Kailtyn a 10. Kaitlyn loves a shirt dress and the team dresses up for away basketball games. She wanted a new one for her wardrobe.
Instructions:
Very easy to follow, I really like how they have the pocket finished. "Turn upper edge to the inside along fold line forming facing, press. To make tuck, on outside, fold along tuck line, catching the raw edge of facing/ Stitch 1/4" from fold. Press fold of tuck down, pressing upper edge of pocket out." Great way to have a clean finished pocket. Here is the one for Kaitlyn's dress, I cut it on the bias.
Throughout the instruction sheet, you will find
"a lisette tip"
. These include how to edgestitch, reinforce the pocket with a small triangle at the top, staystitching, ease stitch, gathering and how to turn the collar. Great tips for a beginner and great reminders for a more experienced sewer.
Likes/Dislikes:
Cute shirtdress with a younger feel and two hem/length variations There is no yokes and the collar and band is cut as one but this is something you could change (a slight dislike) but the collar/band combination does lay very nicely. I do like the fact is does include a front band, wider hems for the sleeves for turn up cuffs.
Fabric:
A cotton stripe from Joann's. My Joann's had no shirtings, we found this in the quilting section.
Changes
: Pockets on the bias to start. I cut view B, with the shorter length and shirttail hem. Oh, boy, way to short for Kaitlyn. It has been awhile since I have sewn for her and mom couldn't remember my baby is as tall as me! So time to "make it work" in the words of Tim Gunn. I had just enough fabric left to cut a hem band with the stripe running horizontally. I think it looks great and was an intended design feature instead "oh, my gosh, fix this"!

Conclusion
: Great shirtdress, good instructions and pretty good fit. Kaitlyn stated this morning, her arms had limited motion. Not sure it was due to the stretch belt she had on, holding the dress in place or a shoulder, back or armsyce issue. Suggestions? Will explore more when she is not rushing out the door to school.
Reluctant model, too cold outside and I need to get to school!