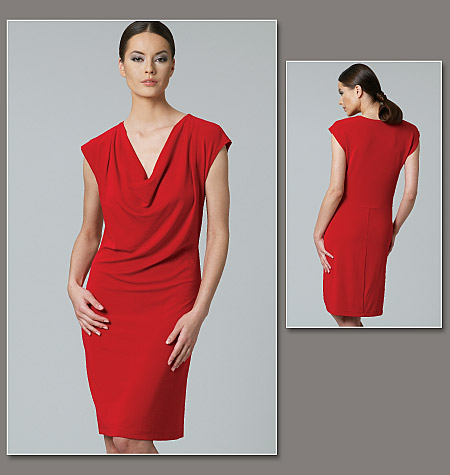 Description:
Easy to sew, close fitting dress with drape.
Sizes:
6 to 20
Likes/Dislikes:
I liked the look of this dress, it has 37 reviews on pattern review. This being said, there are many versions, styled in many ways and all of them look fantastic. Needing some new dresses for my wardrobe, I thought I would give this pattern a try.
Fabric:
A red cotton-lycra knit in my stash, happy to find a purpose for it. The fabric might be a bit too clingy of a choice but with a cardigan, it will be fine.
Changes:
I added some length but then ended up cutting off that additional length. I figured better safe than sorry.
Conclusion:
Need a dress fast? This is your go-to pattern. It is quick to cut out, quick to sew and it looks great.
I will probably wear it with this cardigan quite a bit.
Meredith was being a very creative photographer here!