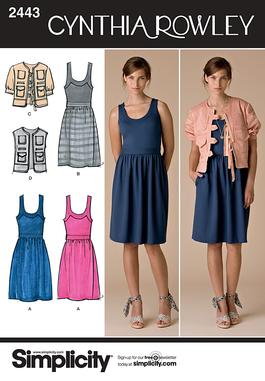 Description:
Cynthia Rowley Collection. Misses' dress sewing pattern with knit bodice and jacket or vest
Sizing
: Size 6 to 22
Instructions:
Excellent for all levels of sewing. Here is a couple of examples:
Step 1 is staystitching. The pattern instructions state, "This stitching stays in permanently and helps prevent stretching on curved edges.
Then in step 2 front dart: "TIP – to prevent a "bubble" at the point, make the last few stitches right on the fold and leave the thread ends long enough to tie a knot. DO NOT back-stitch at the point. Press the dart seam flat along the stitching line to "blend" the stitches, then press dart toward center."
Now aren't those great instructions. I don't know if it is just me and I haven't been paying attention making a garment or if Simplicity is really stepping up the instruction sheet and giving great sewing information. Whichever it is, thank you Simplicity, your great instructions are very helpful to all level of sewing abilities.
The rest of the instructions are very good with a nice order of construction
Likes/Dislikes:
I like the look of this short sleeve jacket. Stylish, fun and a bit different for my wardrobe and I look forward to wearing it.
Changes:
This jacket does not have lining, you could draft your own if you wanted. I serged all my seams to finish the inside and used this
facing tutorial
for the facing, gives a much nicer look.
I also stitched the front and back band with 3/8" seam allowancs, gave me a bit more length on the jacket.
The instructions state to stitch the pockets to the jacket with a 1/4" seam allowance. I did edgestitching and the 1/4" seam allowance.
Fabric
: A linen from Joann's last year. My ribbon matches better than the photos depict. If your selection of ribbon is limited at your favorite fabric store, pick the ribbon first then the fabric, that might be easier.
The pattern called for 2 pairs of d-rings for the sleeve buckles but does not indicate the size, I used 1" rings.
Conclusion:
I am so pleased with my fun jacket. I debated for quite some time if I should do the ribbons and decided, sure why not! This pattern went together beautifully and it has so many details. Pockets, button loops, d-ring closures on the sleeves.
Here are the d-rings and sleeve vents, I see I have a bit more pressing to do on this sleeve:
Several front views, trying to find some natural light on this cloudy and rainy day.