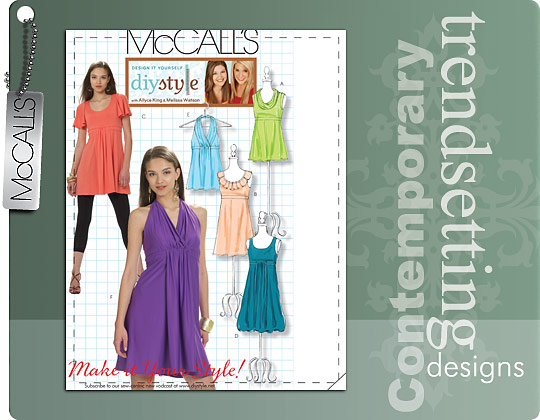 Description:
Misses' top, tunic and dresses from DIY style (design it yourself) with Allyce King and Melissa Watson
Sizing:
4 to 18, I made Meredith a size 4
Instructions
: Good instructions, especially for a beginner or new to sewing. The pattern instruction sheet had sketches of Allyce and Melissa with conversation balloons. The balloons included tips and hints. Such as "Stitching in the Ditch" definition, gathering tips and an idea to use contrasting or metallic thread for topstitching.
Also, the bodice is self-lines, allowing for a nicely finished garment. Only, if you have purchased enough fabric for this!
Likes/Dislikes:
Trendy was a like for my 15 year old daughter. She likes all the views and looks.
Changes
: Since I had a fabric shortage. I used self-fabric and bound the armholes, cut the fabric 1-1/2" wide and about 4" shorter than the finished armhole measurement. Stitched this fabric around the armhole, turned it to the wrong side and then coverstitched it into place. The neckline I made a binding about ¾" wide.
The instructions for view A and B have you insert ¾" elastic into the waistband. I had Meredith try on the tunic before I inserted the elastic and we felt it wasn't needed.
Fabric
: A cotton interlock from Joann's. Not the nicest fabric, but perfect for making this garment the first time and the ultimate test – see if she wears this. If she does then I will buy nicer fabric for more tops, tunics and dresses from this pattern.
Conclusion:
A super cute pattern, easy to sew.
Right now this is hemmed for a tunic but Meredith might want it for a top. She is taller 5'8" and the tunic isn't all that long, about high thigh. So the length might need to be adjusted.
Meredith wanted the sleeves from view C – on the model with leggings but I didn't have enough fabric. After talking about how she was going to wear this, we decided sleeveless and then she would have more options with cardigans and jackets.
I went up to her room to photograph the tunic on my dressform (which I adjusted for tiny size). I went through her closet to find some cardigans, only came up with this one. The rest are either in the laundry or in the pile of clothes on her floor! I finally found one more cardigan and surprise, camera battery died.