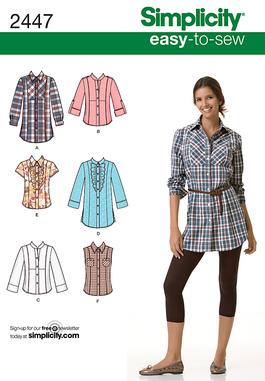 Pattern Description:
Misses Shirt in two lengths with front collar and sleeve variations
Sizing
: 6 to 24
Instructions:
They are very easy to follow on this pattern. Very clear instructions with appropriate illustrations to compliment the written directions.
Changes:
I made an adjustment for maternity garment. I found a tutorial online, which I printed out and now cannot find the link! To recap, add 2" to the center front, tapering to no addition at side seam. This allows extra length for the pregnancy belly. Then cut the side at the seam to just below the dart or bust, hinge out 2".
Fabric: I made this three times for Erin. The first time from a heavier stretch cotton shirting from Hancock's. I was short on fabric, so this version has short sleeves as in View E and the collar of View C
collar
back yoke:
Second version is a orange-white gingham seersucker from Hancock's. I was able to use the regular collar from view A, the sleeves from view B
button tab sleeves:
collar:
The final version is a bright yellow cotton burnout from Hancock's. I made View F with long sleeves.
Also, with the burnout, I used self-fabric for the interfacing for the collar, cuffs, neckband and front band.
collar:
Conclusion
: This is a cute blouse with so many different options. I don't think I will make it again for Erin, three is probably a good number. She needs to get bigger for these tops to look right, but I think they will look very cute when that time comes.
My favorite is the orange-white version.