I have been working away on my pile of fabric for Erin's maternity wardrobe. So let me introduce you the "baby bump" on my dressform!
First up is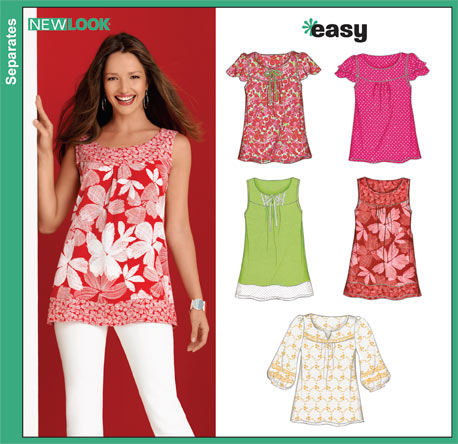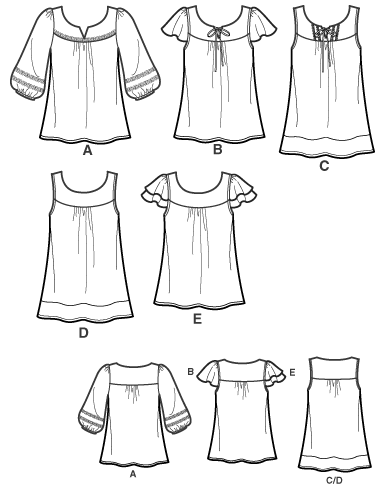 Pattern Description:
Loose-fitting top with yoke and banded hemline option. Also, three sleeve options- sleeveless, flutter and 3/4 sleeves.
I made View A for one top and View E for another one.
Sizing
10 to 22
Instruction
s: They were pretty straight-forward and easy to follow. I felt the instructions had nice illustrations to accompany the steps.
Likes/Dislikes:
Erin chose this pattern for part of her maternity wardrobe. It has the shape for a nice maternity top without tons of fullness. It might not take her through the entire pregnancy but will be something quite attractive without the fullness of a maternity pattern.
I liked the style, yoke and sleeves. As shown on the pattern cover, the yoke and band lend itself to some color blocking and/or fabric coordinating. I also liked the fact the top had some gathering but not too much, sometimes I think patterns can add too much fullness with the gathers.
Fabric:
A "silky" from Joann's for both of the tops.
Changes:
I added 2" to the length for the pregnancy belly. Also, on View E, I just serged the armhole and turned under instead of using bias tape.
Conclusion:
Nice pattern for anyone, the gathers are attractive without being too full, You can add some more shaping to the side seams to eliminate some of the fullness. Great sleeve options, too.
Here is the first top:
It is pretty full and she won't be able to wear it for 2-3 months but will be in her closet when she needs it.
Now the next top is from her favorite fabric from our
Shopping day
and it was suppose to be
Burda 7681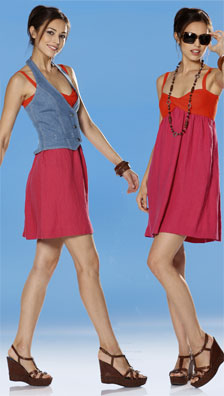 Well, the twisted bodice front was just too low and not appropriate for school. So I redid the bodice to be straight across and she tried it on. Well, Chris (her hubby) and I did not say anything and let her look in the mirror. She came back saying I look like, well, I don't know what but this dress looks horrible!
Time to rethink this pattern, I take that back, I took it to the trash can!
Now to salvage her favorite fabric. I was able to cut from the skirt of the Burda dress the top (along with a bit of leftover for the sleeves) and used a black skirt (which Erin didn't like) for the yoke.
Success this time:
I did taper the side seams a bit to take in the fullness. Now it looks more appropriate for her to wear now.
Sleeve:
Back
Yoke:
I am so happy I was able to save her favorite fabric and it is now something she will wear!