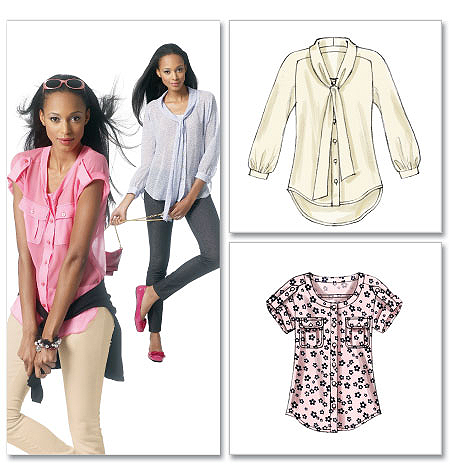 Pattern Description:
Misses Loose fitting blouse with tie option, sleeve option and pockets. Also, has a high-low hem option.
Sizing:
4 to 18, I made a 12.
Instructions:
I thought they were easy to follow. Attaching the yoke to the front neckline and sleeve could be a bit tricky but McCall's has such thorough instructions and illustrations.
Fitting instructions on this pattern are incredible. This pattern is by Melissa Watson, daughter of Patti Palmer, so everything you know and love from the Palmer and Pletsch patterns is included in Ms. Watson's pattern. This includes instructions on the sheet and areas to alter printed on the pattern pieces.
Likes/Dislikes
: I like everything about the pattern. I really wanted to make view B but did not have enough fabric, so A was my second choice. I am actually thrilled with this version, in fact, the bow in the polka dot fabric might have gotten lost. For this reason, I omitted the pockets. I had them ready to put on the blouse and you just could not see the design detail.
Here is a close-up of the fabric:
Fabric:
A rayon from Fabric Mart (I believe), This fabric was wonderful to work with and has the perfect drape for the pattern.
Alterations:
I added 1" to the body and used the high-low hem from View B.
Conclusion:
I really, really like this top, it is one of those times when the pattern and fabric are perfect. I will make this again in both View A and View B. Also, I think Erin would like View A for the middle of her pregnancy (oh, wow, that is neat to type!)
I left of the tabs on the shoulders, liked how the sleeves looked on me without the tabs, Do you have an opinion about the tabs? I still have the pattern piece cut out so I can add them.
Here it is on the mannequin, not too impressive
It looks better on:
Now here is the high-low hem
Do you think it is too long, when you can see it through my legs? Just asking, looks a bit weird to me. So fashionistas, your input, please. I am thinking of cutting off at least 1-2" of the back hem.
All those zinnias came up from last years zinnias. I let them grow and grow since they flourished in our 90 to 105 degree weather.
My serger isn't back yet but I sewed this like the pattern instructions indicated – with French seams and then the yoke is stitched twice and trim close to the second stitching.
Oh, so nice to be back on garment sewing!
***************************************************************************
Jesse, son-in-law update, he has had two scans both came back clean!! Thank you for the emails and prayers for him
Also, thanks for all the suggestions of baby patterns and maternity patterns. I ordered three maternity patterns from Megan Nielson and a book titled, "
Making Baby's Clothes: 25 Fun and Practical Projects for 0 - 3 Year Olds by Rob Merrit"
Also, pulled out all my old Ottobres to start looking through. I won't sew much for baby until after October 30th, then I will know boy or girl sewing.
Another thank you, I appreciate the nice comments about my purse pattern and those of you who have ordered it. Thank you, hope you like it.