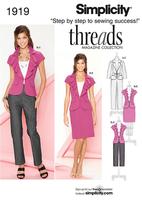 Description
: Slim pants in two lengths, skirt and jacket
Sizes
: 8 to 24
Instructions:
They are good instructions, nice instructions on zipper. I didn't follow them to closely since I made some changes.
Fabric
Black ponte from Nancy's Notions.
Changes:
My ponte had a nice stretch, so I eliminated the zipper, oh darn. I added 3" to the length and was able to use a 1" hem. The description states slim pants but I narrowed the pant from the knee down but 1/2" on the inner and outer seam.
I also used the instructions from Kwik Sew 3115 to add a bit of elastic to the waistband and it keeps my ponte pants up a bit better! I will have a tutorial on this technique in a day or two.
Conclusion:
I am thrilled with my ponte pant and happy I have completed a garment for the sewalong.
flats
or heels
Probably won't be the top I wear with these pants but wanted to get some pictures done quickly.
Working on the link tool now, so look for a post tonight for this feature.