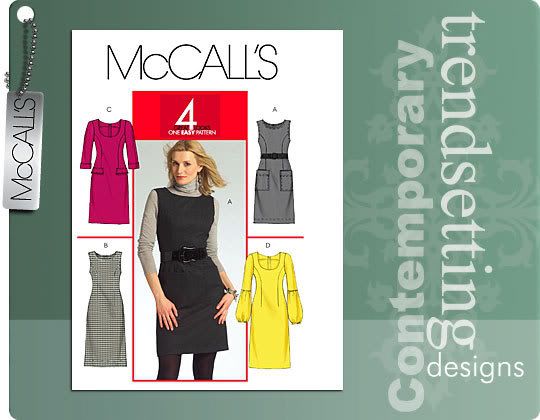 Pattern Description:
Jumper and dress have back zipper closures and back slits
Sizing:
4 to 18
Instructions:
I thought they were very thorough. Talked about easestitching, how to sew the dart and concise order for the steps.
Fabric:
Ponte from Fabric Mart.
Likes/Dislikes:
Very basic jumper, sheath or dress with sleeve options, great princess seaming for fitting.
This dislike is it short - take a look at the model (view A in middle). Sometimes I can be totally oblivious to this type of thing and when Erin tried this on, oops totally inappropriate for a high school teacher. Great for date night or a party but not school.
Changes:
My main change was something for the length. Right away I thought of a band in another color of ponte. I ordered gray from Fabric Mart and then the last minute ordered red. The gray ponte had the look of a sweater knit, so the red was my choice by default. I am so happy red won - take a look
The band is a total for 10" folded in half and sewn onto the bottom of the dress.
Conclusion:
This dress looks fabulous on Erin and she styled it with a cardigan and a belt. I think this pattern is so versatile and you can have so many looks with one pattern. It would be a great jumper but Erin prefers to wear it as a sheath-style dress.
There is lots of colorblocking inspiration at
Nordstrom