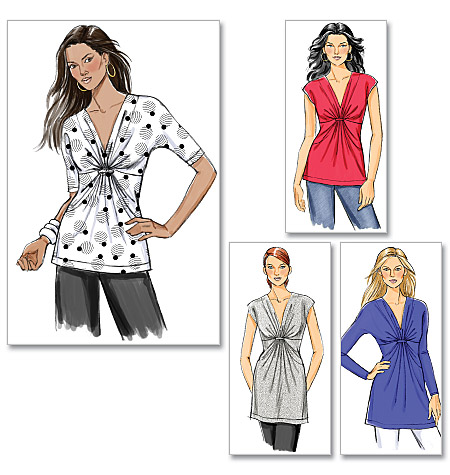 Description:
Loose-fitting tops A, B, C, D with front drape gathered into loop, dropped shoulder, seam details and stitched hems. A, B: sleeveless. C, D: short or long kimono type sleeves.
Sizing:
8 to 22
Instructions:
Easy to follow and great illustrations.
Likes/Dislikes:
I have been seeing this garment all over the sewing blogs and on PR. I really wanted to make it and had just enough fabric to get it cut out. I had used some of this fabric for a
top
for my daughter.
This top is super-flattering and just looks great.
Changes:
Added about 1" to the length. Next time I will raise the deep v-neck.
Fabric:
ITY knit from fabric.com
Conclusion:
I am going to get more fabric and make this one several more times. I might even lengthen it and make a LBD.
Meredith took four pictures of me and in three my eyes were closed and here I am squinting, so this one wins!