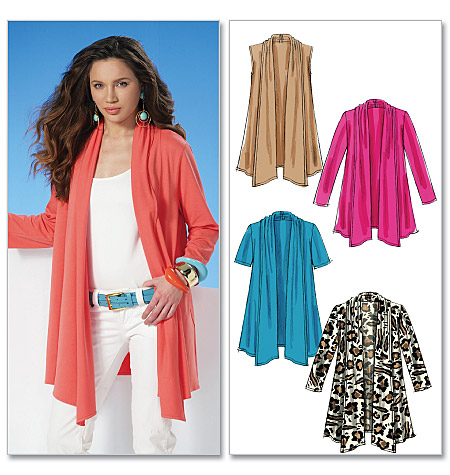 Description:
Cardigans A, B, C, D have cascading shawl collar with shaped front hems, wrong side of fabric shows. I made view D with the long sleeves.
Sizes:
XS to XXL ( I cut a Small).
Instructions:
They were easy to follow. The hardest part of the cardigan is the collar but the instructions are easy to follow. Once this step is completed, the rest is easy and the cardigan is quick to sew.
Likes/Dislikes:
Another variation of the cardi-wrap. Simplicity and Jalie have one of these in their pattern line and I have made both of those patterns. I picked this one up at a pattern sale at Joann's and thougth I would try another variation. Each of the patterns have bits and pieces I like from each. This one I like the collar and the sleeves.
Fabric:
I think it is matter jersey or something similar I purchased from Gorgeous Fabrics a few months back.
Changes:
My only change was not to hem the garment, except for the sleeves. There would have been quite a bit of hemming, so I left it off.
Conclusion: I might sew this one up again if I found the right fabric. I do enjoy wearing this type of garment.
One more thing to like about this pattern/style of garment, is the many ways you can wear the cardigan