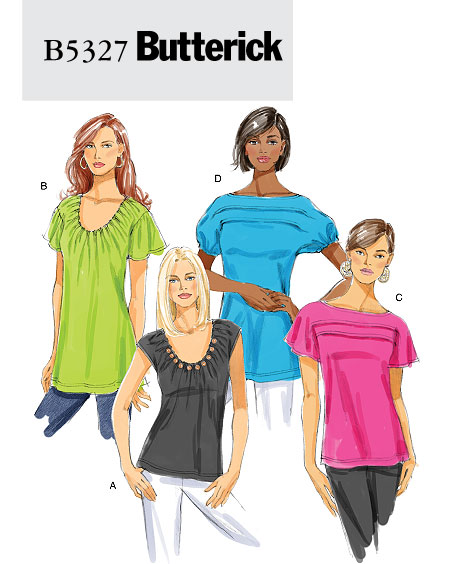 Description:
From the envelope - MISSES' TOPS: Tops A, B have tucks along front neckline. A: beads between tucks. B: ruffled sleeves. Tops C, D have front and back tucks. D: sleeve casing and elastic. A, C: hip length. B, D: below hip length. All tops have stitched hems.
Sizing:
XS (4-6) to XXL (24-26)
Instructions:
The instructions were easy to follow, I liked how they added a step to reinforce the shoulder seams to prevent stretching in this area.
Likes/Dislikes:
My main like is all the different views to dress up a knit shirt. The only dislike, my pleats don't want to stay flat. Oh yes, one more, it is quick to sew.
Fabric:
A silk jersey from Gorgeous Fabric
Conclusion
: This is a very quick garment to sew but the results are great. I wore this last week on a spring break mini-trip with the twins. It was pretty cold and rainy so I layered it with a long sleeve tshirt and it looked very cute. Meredith wants view A with the beads at the neckline, which I found some that will work at Joann's last week.
This garment concludes my "gray" sewing, 4 garments total (two jackets, one cardigan and one tunic). I didn't realize I had so many solid gray fabrics in my stash! It is a good thing I really like gray at the moment.
The tunic length with the picture lightened
This is more of the true color
pleats