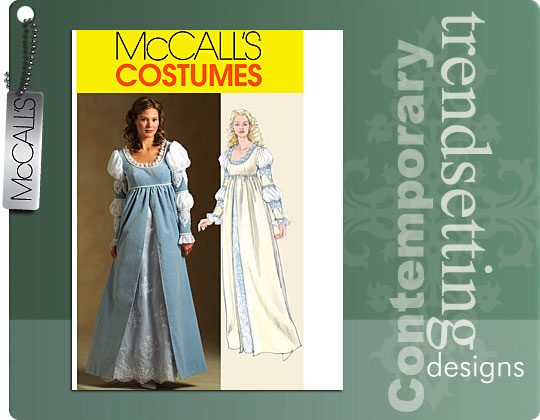 The above pattern is Meredith's choice for her costume for Scrooge in December at high school. Here is here costume:
Meredith plays the cello and with the long fitted sleeves, she wasn't able to move her arms to play her cello.
Suspecting this, I made one sleeve, then attached it to the bodice and had her try it on. Yes, limited movement. So now short sleeve gown!
Kaitlyn didn't want the same pattern (of course, what do you think we are twins or someting ha ha!) The real reason - this pattern is too girly. The music director told them a skirt with blouse and an apron would be a good choice.
Working from this pattern: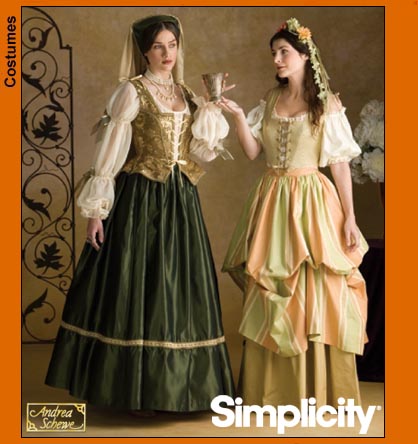 I made this:
The pattern calls for 3 skirt pieces, I used 2 pieces only, wanted the look of a slimmer skirt. Also, I adjusted the blouse a bit smaller, the bust measured 45" on her size! Making the blouse with less volume, allowed me to make an apron from the leftover yardage. The blouse still is so full, Kaitlyn cannot tuck it in, makes her skirt too tight.
Now this is how the photographs don't tell the whole truth - In person, Kaitlyn's costume is beautiful and looks so much nicer than Meredith's gown. I think it looks the opposite in the photographs.
News on my Riveria Jacket - big, big oops. I tried to fix my oops but my topstitching thread matched too perfectly to the fabric, this led to a nice big whole in my jacket. New fabric is on the way!