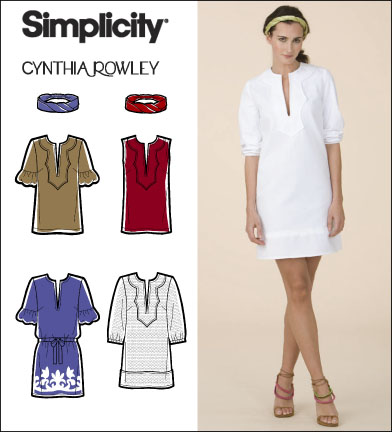 Pattern Description
: Misses Dress, Tunic and Headband Cynthia Rowley Collection
Size:
4 to 20
Instructions:
They were pretty good for the most part. The instructions did have you sew shoulder and side seams first, then you are to sew the neckline and facing. Thanks to
Eugenia
version and her blog review, I knew about this order, so I sewed the shoulder seams and then did the sewing of the neckline and the facing. After that the instructions were fine and this is an easy garment to sew
Likes and dislikes
: A tunic with minimal ease plus many variations for making this pattern several times and always having a different looking garment.
Changes:
I made view A's neckline, the basic slit. I thought the more intricate facings would get lost with my polka dot fabric. I like the tie from view A and instead of marking it on my pattern, I constructed the entire garment, except for hem and then tried it on. I wanted to mark the spot for the casing, that way I could get what would look best on me.
Deep neckline plunge warning! I should have shortened that slit by at least 2" but I totally forgot. I made sleeveless for a cooler garment for these hot summer days. The last thing I wanted was to wear a cami under this top. I had a RTW white top which fits poorly, I took that from the closet and cut a piece from the bottom. I used this for an inset, the top of this inset is the hem of the old shirt, no need to hem the inset.
The zipper could be optional, depending on your neckline and if your fabric has much stretch. I wasn't sure my fabric had enough stretch and I only had an 8" invisible zipper, so that is what I used.
Fabric:
Navy Stretch poplin from Fashionista Fabric
it is lightweight and feels incredible.
Conclusion:
Great tunic. I am happy I included the casing and the belt, this style suits me better.