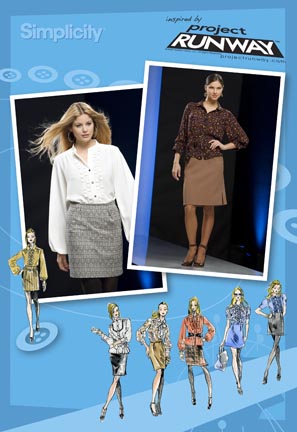 Here is the line drawing, you can see the gathers and the sleeve pleats a bit better.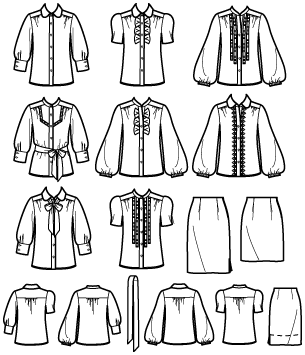 Description: Misses' Skirt in two lengths and blouse with sleeve variations. A Project Runway pattern
Sizing:
4 to 22
Instructions:
They are good and have some nice features, such as back yoke lining. I learned this technique at a Louise Cutting seminar, it is nice to see it in a Simplicity pattern.
Likes/Dislikes
: I wanted a stylish white summer blouse, a bit oversized like shown in this Lucky magazine spread
One of the drawings on the pattern envelope show the top belted. Well, that will work but it isn't that oversized. Also, the blouse is longer on the pattern envelope. I added 1" to the length and it isn't that long. So if you are wanting a longer blouse to use a favorite belt, check the length
Changes:
Measure the width of the sleeves at the hem. I had the sleeves completed (the hem is a facing with understitching and that was finished). I then slipped the sleeve on my arm and it was tight. I did some unsewing and made the pleats in the sleeve a bit smaller. Then the underarm sleeve seam went from 5/8" to ¼", to give me a bit more room. So measure first and save some time, is my advice.
Fabric:
A white shirting in my stash leftover from another project.
Conclusion:
A fun blouse that will get lots of wear this spring and summer.
Maybe wearing it like this, somewhat like the Lucky magazine spread. This is a BWOF skirt I made last year.
Next up a pencil skirt, hopefully finished for Easter.