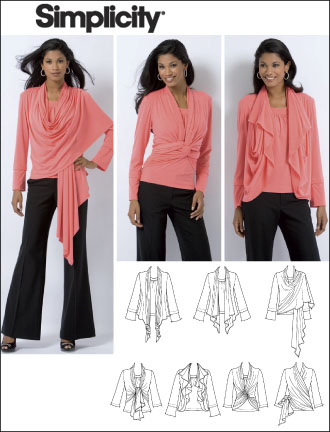 Description
: Knit top and Cardi-Wrap with front variations. This is for the tank.
Sizing:
XXS to XL (4 to 24)
Instructions:
Very good, even though this is a simple tank, Simplicity gives good instructions for the band.
Likes/Dislikes:
I really liked the details of the band, dresses up a basic tank
Changes:
I added 1" to the length
Fabric
: Rayon knit from Joann's
Conclusion:
Super-easy tank and it looks great. I will be making more for spring and summer
side view - a bit shiny in spots from ironing this type of knit.
with my new favorite jacket
Thanks all for the wonderful comments on my garments from the last post, I really appreciate it.
Have a great weekend.