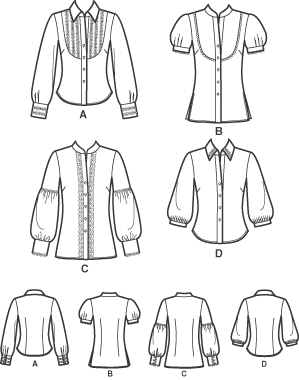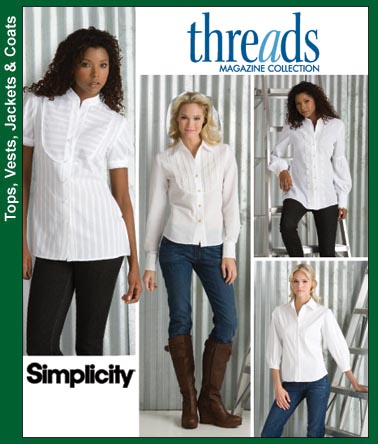 Description: Misses blouses with some front variations, two collar styles and several sleeve styles
Sizing: 8 to 24 with B,C, D cup sizes. I made a 12 per the finished garment measurements on the pattern piece. Next time, I would keep the 12 sizing until the hips and grade that down to a 10.
Instructions: They are very good instructions with nice tips and hints from Threads scattered throughout. I didn't refer to them very much, I have made several blouses and taken an online course with Shannon Gifford at Pattern Review. I did refer to my printouts from that class to construct the blouse, especially with the collar.
I went to
Pam's blog
for some shirtmaking information and wish I had done that earlier on. Check out her blog for some magnificent tutorials. She is the queen of shirtmaking! The interfacing for this blouse came from Pam, too.
Likes/Dislikes: I wanted a very traditional blouse with great fit and style. This pattern fit the bill. You can have any variation of sleeves, cuffs and yokes with this pattern. Add lace and detailing for even more options. I really like the darts in the back for a great fitted blouse.
Absolutely no dislikes.
Changes: I combined a couple of views, the body of D and the sleeves of A and the length and hem of C. I added 1" to the body of the blouse and 1-1/2" to the sleeves. That was just the right amount, I had been only adding 1" to the sleeves and they were just a bit too short. You know, that bit that drives you crazy. That ½" isn't much but it is the right amount and makes all the difference. The wearbility factor, as Carolyn stated on my blog comments one time.
Fabric: A wonderful package from
Brigitte
. I was the first one to figure out what pattern she was using from BWOF and as a result, received all these
wondeful fabrics and notions
So the cream sateen cotton for the blouse and Brigitte included the fabulous buttons. Looks perfect for dressing up and dressing down and for the upcoming holiday season.
Conclusion: A great fitting blouse with many options to make this pattern uniquely yours.
Here is the blouse:


Beautiful buttons