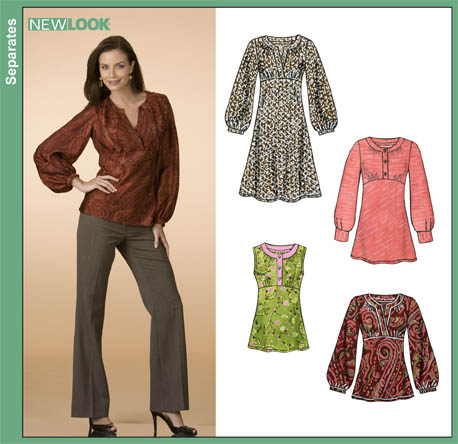 Description:
Misses tunic top or dress with empire waist, crossover or button up bodice front, bias skirt, and sleeve variations
Sizing:
10 to 22
Instructions:
The instructions were good, easy to follow.
Likes/Dislikes:
I liked the variations on a empire waist top.
Changes:
I used a knit fabric instead of the suggested fabric types, which were wovens (cotton, poplin, silk, etc). With the knit in mind, I decided on a size 10 from the finished garment measurements. If I made this in a woven, fabric, I think a size 10 would be the best.
Other changes:
I made view B with the exception of the sleeves. I didn't want to add a button cuff, so I added 1-1/2" to the sleeve length and just used an elastic casing for the bottom of the sleeve. I needed to add another inch to have my sleeves long enough, but they are cute pulled up.
I also added 1" to the body of the garment, a typical adjustment for me. Also, the pattern called for the skirt part of the top/dress/tunic to be cut on the bias. Once again with the knit, I used a straight of grain to cut the skirt part. Good thing, as I had no fabric leftover!
Fabric:
Retro-knit from Joann's fabric. The fabric and pattern were purchased when I met
Gwen
at Joann's.
Conclusion:
A cute top, very quick to make and interesting details. I would like to try view C, with buttons or snaps. I am not crazy about my print in this top and I think a solid would show the lines and shape of this top better.
You can see the details of this pattern with the line drawing: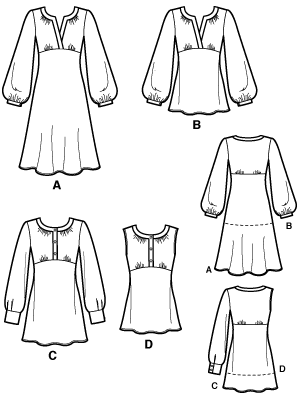 Not a great picture but it gives you an idea of the fit: