I have made this pattern three times before -
here
and
here
and
my favorite
So I pulled this pattern out for a fourth time, cut it out and went to sewing, the fabric was from Needle Nook, my latest shipment to land at my door. I was suppose to meet Anne (Needle Nook owner) on Wednesday. She was passing through my area, returning home after teaching out east. She calls me at work and usually I can get off and meet her, but not this Wednesday. Talk about disappointing, I had my new top on and everything!
I did get pictures before I went to work, not great pictures. The details of this top are so nice in this pattern. Gathered neckline, wide neckband, great sleeves. So here is the line drawing.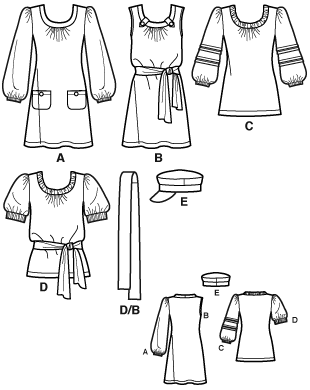 I made the sleeves from the dress with the elastic. I took pictures with the sleeves up and down, but my photographer cut off the sleeves when they were down! Cute either way, I will add a bit of length next time I make the long sleeve version.
Here it is, doesn't photograph the best in a print but this is a very flattering knit top. Just look at the built in shaping at the waist in the line drawing.