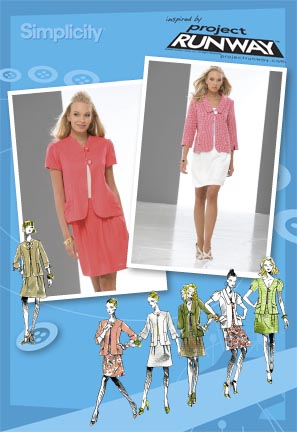 Description:
Misses' Jacket with front, collar and sleeve variations.
Sizing:
4 to 20, I made a 10
Instructions:
Good instructions with extras. The instructions include information for applying double fold bias tape for enclosing the seam allowances. A tip on turning a the button loop tube, directional staystitching, and excellent diagrams.
Likes/Dislikes:
I like the v-neck view with the soft round collar and the shape of the jacket. Also, the back tab with the button is very cute. No dislikes.
Changes:
The only change was to have only one button on the front.
I think a good change would be to lengthen the back facing and it would cover the back seam. The back is cut on the fold except for the top 1/3, a longer facing would cover this seam. This would make it look nicer without a lining.
Construction:
I made this jacket quick and easy. I used my serger to finish all seams and did not line any part of it. I hadn't sewn too many garments in the last month or so and I just wanted to make something. This pattern and fabric combination was out on my cutting table, so it was first up.
Fabric:
A very inexpensive boucle from fabric.com.
Conclusion:
A fun and stylish jacket. I really like the shape, neckline and collar. Plus it just felt great to get back to garment sewing.