One of my favorite times of the year, Style Maker Fabrics' Spring Blog Tour, I love to see all the creations and the inspiration.
For this pair I didn't go with the skinny leg and not quite a straight leg, just somewhere in between.
I also used some twill tape at the top waistband seam, on the facing side and that really helps the waistband from stretching out. As I was sewing on the twill tape, I thought about using it at the top of the yoke, before attaching the waistband. Luck had it, I had not attached the waistband, so I did just that, in fact putting the yoke down along my feed dogs to ease that yoke in a bit. I felt like this pair had just a bit of extra in the yoke. This was just what my jeans needed and the waistband facing with my gingham trimmed edge covered the twill tape perfectly.
This stretch denim was so easy to sew and topstitch. I used a combination of the edgestitching foot and my 1/4" foot. I didn't have a good topstitching thread, so I used a shade lighter construction thread and the triple stitch.
I did use some fun fabric for the pocket bags, some quilting cotton with sewing terms
Spring is suppose to be here but all we get is rain and clouds, which means green grass and spring flowers soon. Only downside is getting photos taken, which I did on three different days! Can you tell, I went with the natural curly hair one day.
My back pocket was inspired by RTW, first a template
And here is the back pocket with chalk marks. I like to mark lots on my back pockets and the chalk marker is a good way. I was going to use my frixion pens but they left a mark on my denim after I used my iron to remove the mark. So always test your pens.
I had to use the gingham one more spot, I finished the seams with the gingham. Isn't it just too fun.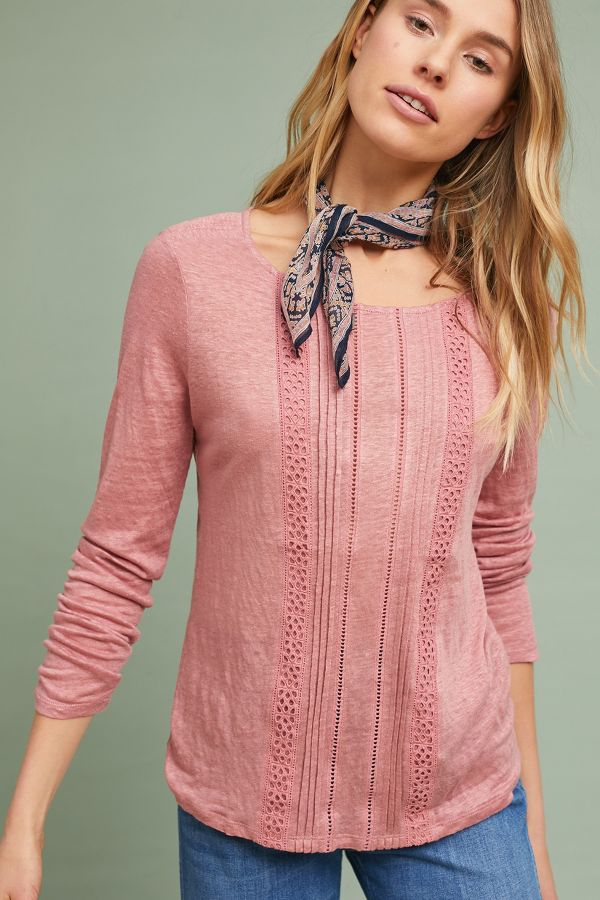 photo from Antrhopologie
I went with pintucks and the ladder stitch trim The pattern I used was the
I did trace around my front pattern piece and cut out this pattern piece larger. I marked the center front and then marked pintucks. I used my edge stitching foot to apply the ladder trim. Once all these steps were completed, I cut the front out to size
I love my two new pieces and I can't wait for the weather to cooperate so I can dress for spring!
Inside the Hem's swatch video
Hope you saw
Merrits Makes
yesterday and head to
Goodbye Valentino
tomorrow.
Disclosure - The fabric was given to me by Style Maker Fabrics to participate in the Spring Blog Tour, all the opinions are mine.