Another quilt that is finished and given to Meredith and it all started with the book titled
Back in August, while shopping with a quilting friend and Meredith, I fell in love with this Art Gallery -
Sew Caroline Happy Home fabric
from this
collection
. I didn't know what to make with it and then we all started to look at the books in the quilt store. That is when I found the
appliqued house quilt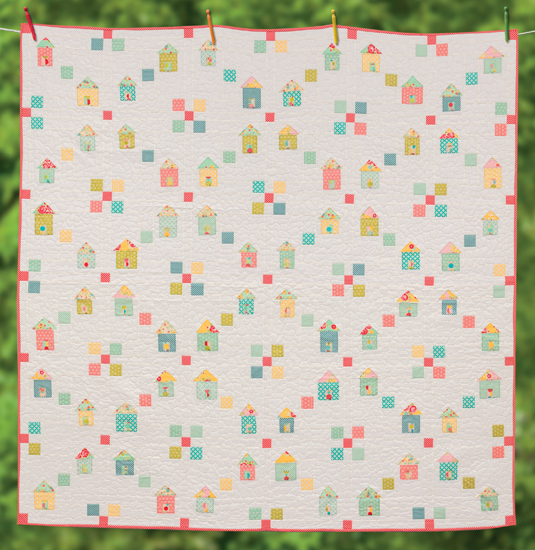 in the Irish Chain Quilt Book and knew I had to have this book. The three of us thought the house fabric would work just perfectly for the same look. In reality, I am not sure it does but still makes a cute quilt. I find it interesting how color plays out - in the large picture of the entire quilt you see the navy squares and then in the close up version - you see more of the other colors.
Here is a close up of the quilting and the backing. The solid color fabrics for this quilt were leftovers from
Building Blocks Quilt
The blocks did cut out pretty nicely for the most part to be two centered in the area.
All in all it is a fun quilt and the house fabric is darling. I bought way too much of it so you will see it on the back of three baby quilts soon. I do have a confession to make, I am disappointed in the end result of the quilt. I told my friends, it looks like a whole cloth quilt and the piecing does not stand out. My lack of love for this one is a gain for Meredith, just loved it and now it is hers.
Remember my
post
about using my fabric? Well, this quilt marks another project in a box off the list and the box empty. I am making progress!