Lately I have been drawn to these popover shirts at
JCrew
and
JCrew factory
but I have to be careful with this style that they are not too full.
I had the perfect top pattern in my collection, now out-of-print
Kwik Sew 3026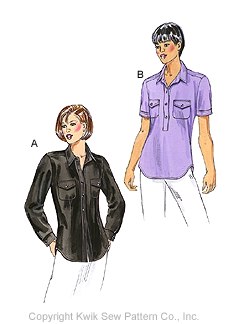 Which actually I have made before and no longer have this blouse,
check it out here
at Pattern Review 2005 - and pre-blogging.
This pattern was perfect for my needs. It has nice shape and isn't too full through the body. I added 1" to the length of the body and the sleeves.
The fabric is a
Mood Fabrics' Flannel
, available in 4 colorways The color of my shirt (gray and red) is almost sold out. This is a great weight of flannel and super soft, plus a nice price.
With plaid, I always like to use the bias. Here on the placket and pockets. I did learn from my placket on my
Chambray Dress
and added more buttons
The back yoke, the picture is a bit blurry. I asked Mike to go out right when the sun was coming up. Not perfect for pictures but it was the only chance for the day, I knew I wouldn't be home before dark.
and finally the cuffs
Note on this Kwik Sew pattern the seams are 1/4" which makes the collar and collar band so easy to construct without the extra bulk.
I did use french seams on the sleeves, just looks nicer when I roll up the cuffs.
I love my new top and the fit, it is just right a bit of room but not over sized.
I have been purchasing my
buttons at Fashion Sewing Supply,
I love the look, the size and the styles. It is so nice to have an assortment in my collection and not have to wait to finish a shirt because I don't have buttons.
One last picture, telling my husband, get the cuffs, just thought it was funny, I had to share plus it might be the best one of the shirt. It was toward the end of our 5 minute photo shoot and the sunlight was better.
Don't forget to leave a comment for the
notebook and notecard giveaway
.
\\