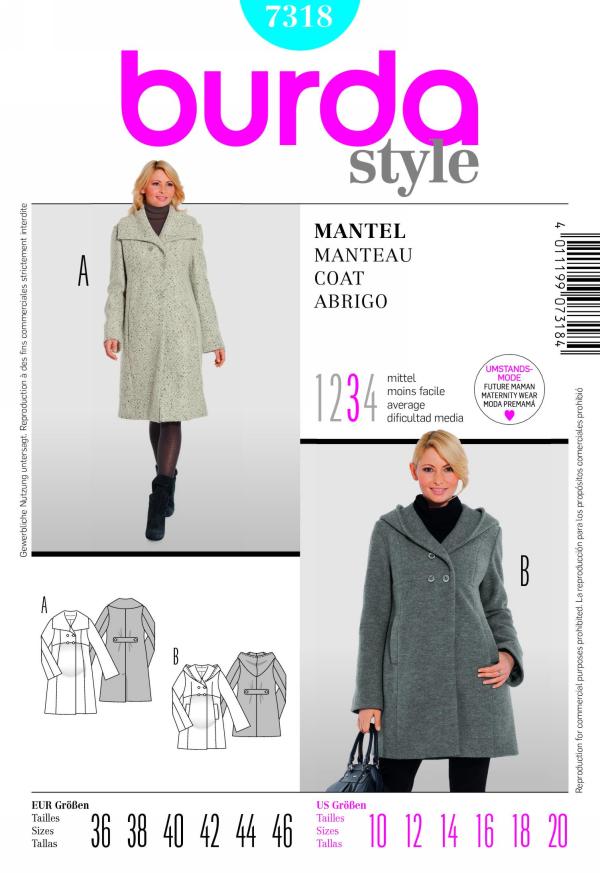 Description:
semi-fitted coat, with hood or collar. Two lengths, empire waist, pockets and drafted for maternity.
Sizes:
36- 46
Instructions:
They were good for Burda, I did use some other sources for tailoring and coat making to add some body to the coat.
Changes:
I underlined the entire coat with
Pro-Weft Supreme Lightweight Fusible from Pam Erny
and the Medium Supreme for the interfaced parts.
I added a back stay
and sleeve heads
The rest of the construction process, I followed Burda's instructions.
Fabric:
An orange wool flannel from
Fashionista Fabrics
. The wool was not quite thick enough for a winter coat so I ordered coat lining from
Vogue Fabrics
. The coat lining was heavier with a flannel back, perfect for added warmth to the coat.
We picked out brown buttons and brown lining, avoiding black so it wouldn't look to Halloween-inspired.
Likes/Dislikes: Erin and I were looking at patterns and this one jumped right out at us. Looks very stylish and chic with the maternity style. I had no dislikes.
Conclusion: I started on this coat back in August, when my serger was being repaired. I was able to get the wool part of the garment completed. Then my serger was fixed and I started working on all her clothing. I went back to it yesterday and finished it this morning.
I am so pleased how it turned out, the pattern is perfectly drafted and it was a good pattern to work with.
Here is the stylish new coat from the front:
Side:
close-up
Button side:
and finally the back: