Here is the pattern Erin selected for the flower girl dresses. I used the same size for both girls (sisters and cousins of the groom) and just lengthened it for the older girl.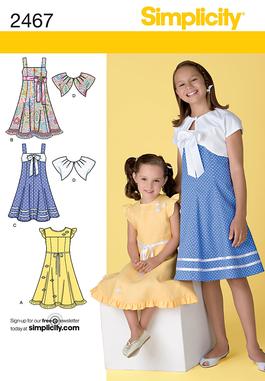 Pattern Description:
Child's and girl's dress sewing pattern with neckline and trim variations and jacket.
Sizing:
3 to 14
Instructions:
They were easy to follow, with nice diagrams and hints throughout.
Changes:
I added a lining to the dress and an eyelet ruffle on the lining.
Also, on the lining I used my lettering on my machine and embroidered the girl's name onto the lining. I thought since they were so similar in size and for sisters, this would help the mom know the owner of each dress.
I also added ribbon for a sash, just something a little extra and I thought the big bow in the back would look cute when the flower girls walked down the aisle.
Fabric:
A Michael Miller quilting cotton from Fabric.com (Erin ordered it last summer so not sure if still available)
Conclusion:
A great pattern, with several seams to help in fitting. It is easy to construct and looks very cute on the girls. I was very pleased with my dot matching on this dress in the front bodice. The first time the dots looked horrible, so very mismatched. I had enough fabric to recut the center front section. The other dress is not this good but looks fine for the wedding, plus I had no extra fabric.
Erin and I delivered the dresses to their aunt along with their decorated headbands, which you can see here: