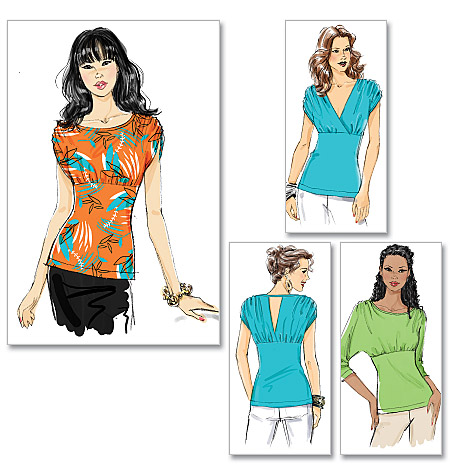 Pattern Description:
A Dolman sleeve top for knits. Long or short sleeves and high boatneck or V cross over bodice variation. Features a classy triangle opening at the back of the neck
I made view B, thought View A might be too deep of front v-neck, meaning a cami worn under this top which would have defeated the open back look.
Sizing:
6 to 20, made a 12
Instructions:
They were easy to follow, nice illustrations for most of the step-by-step instructions.
Likes/Dislikes:
I liked the classy look of the knit shirt, lots of extras to make it a bit dressier. The gathering on the bodice, the gathered shoulder seams (done with elastic), the triangle opening in the back. Only dislike - it took me too long to get to this cute pattern.
Changes:
The pattern calls for elastic in the empire waist seam, which I omitted. It probably will hold the gathers in place better but I thought this would fit Erin perfectly without the elastic and I thought the shirt would be more comfortable without the elastic.
Fabric:
A rayon-lycra knit, it has been in my stash for quite sometime.
Conclusion:
A fun top to make, with many extra design features.