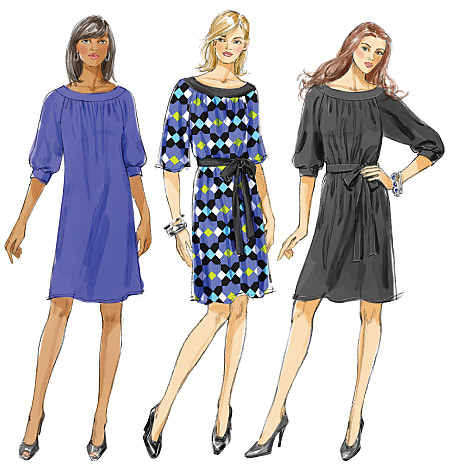 Pattern Description:
Loose fitting, straight, above mid-knee, pullover dresses A, B, C have front and back gathers, neckband and elbow length raglan sleeve variations; dress A has wide sleeves, contrast neckband and contrast belt; dresses B, C have gathered sleeves with self sleeveband; dress C has self belt.
Sizes:
8 to 16 and 18W to 24W
Instructions:
Very easy to follow, great order to the instructions. Notice this dress is not gathered all around the neckline and sleeves, only the front and back neckline is gathered. I really like this feature, keeps it from looking too much like a peasant top/dress.
Fabric:
Another great lycra/knit from the store with the $1.59 a yard treasures.
Changes:
Only one, I used my coverstitch on the neckband at both the upper and lower edges.
I also cute a size smaller than usual, lots of ease in this pattern.
Conclusion: This is for Erin and I
really
want one, too. If this one wasn't a couple inches too short, not sure I would be giving it up. Also, note the neckline is wide on the pattern envelope and it is that way on the actual garment.