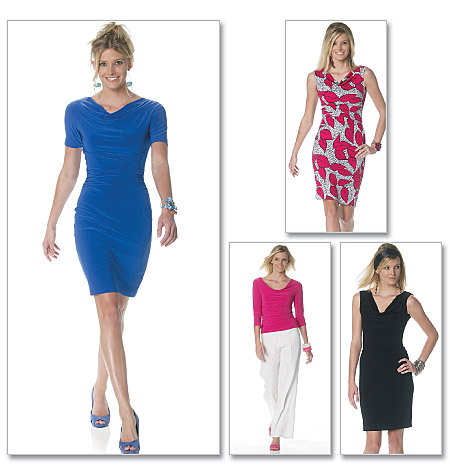 Pattern Description:
Straight, above mid-knee length lined dresses front high or low cowl, side and back gathers optional back invisible zipper; dress D has unlined, above elbow length sleeves.
Sizing:
8 to 22
Instructions:
Very thorough and informative, this pattern is a Palmer and Pletsch pattern. They are great teachers and have shared much information in this pattern.
Likes/Dislikes:
I seem to be drawn to draped cowl neck patterns lately. I thought I would give this one a try. Plus, thanks to Lynne, I have been using Cabi for inspiration. The striped top in the middle was my inspiration
picture from Cabi Canary
and here
picture from Cabi Canary
Fabric:
A jersey knit from Gorgeous Fabrics
Changes:
well, lots. I omitted the gathers at the waistline. I did not line it or use a zipper.
Conclusion:
After completing this garment, I decided this pattern wasn't for me. There were several other drape patterns I like better. Then I looked at the pictures and decided maybe this wasn't as bad as I thought. I like an ITY or rayon knit would be better for the pattern, it drapes nicer
with my Simplicity Cynthia Rowley jacket I made last summer