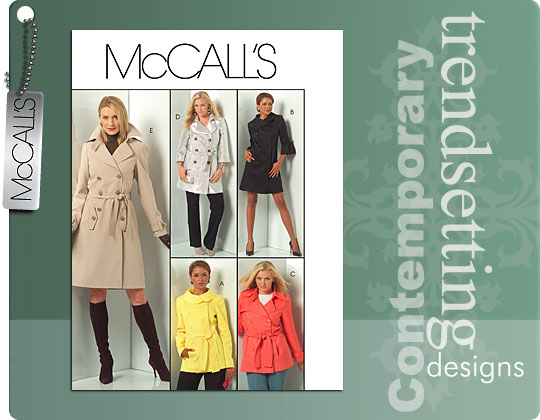 Description
: From pattern: Semi-fitted, lined, double-breasted jacket and coat have collar, lengths and sleeve variations, shoulder pads, princess seams and side front pockets; coats B, D and E have back vent; jackets A, C, coats B, D, E have belt carriers; jacket C, coat E have epaulets with button closure; coat E has pocket flaps with button trim; jacket C, coat E have collar tab; jacket C has front yoke; jacket C, coat E have back buttoned yoke; coats B, E, jacket C have sleeves with button bands; jackets A, C, coats B, D, E have topstitch trim, button closure; jackets A, C and coats D, E have self-tie belt.
Sizing:
8 to 24
Instructions:
The instructions were good. You just have to be careful with each step, so many different views and pattern pieces possibilities, easy to miss a step in the instructions
Likes and dislikes:
The style of the trench, classic and stylish. Also, there are so many possibilities to really make this coat your own. I like the topstitching but next time will do 1/4" instead of the 3/8" as per the instructions. I find it easier to follow the edge of my presser foot. Plus the 3/8" topstitching seems to be pretty wide, especially when adding buttonholes.
Fabric:
A cotton twill from Joann's, part of the Lisette collection. Here is the
collection
and
here you can see the colors a bit better
Changes:
I just made the changes mentioned above. This trench is for my daughter, Erin, and initially I had cut out the front yoke and back yoke flaps. After working on the coat and thinking about her style, the yoke flaps were just a bit too much for what she likes. I did make the sleeve bands, felt the trench needed the bit of extra design factor.
Erin picked white buttons, I was thinking black because of the lining. So happy I went with the white, really makes the trench pop.

lining
Sew it again:
I might sew it again, really enjoyed the process and the end results is wonderful. There is a reason this pattern is a Best Pattern of 2009, great results. Also, it as 36 reviews, so many people are liking it.
Conclusion:
A winner, my daughter is thrilled with her coat, I am thrilled with her coat and in my daughter's words "the coat is awesome" Makes it even better for me.
Here is the back but I don't like the picture, the dressform doesn't fill out the shoulders resulting in many wrinkles.
then I added one of my labels