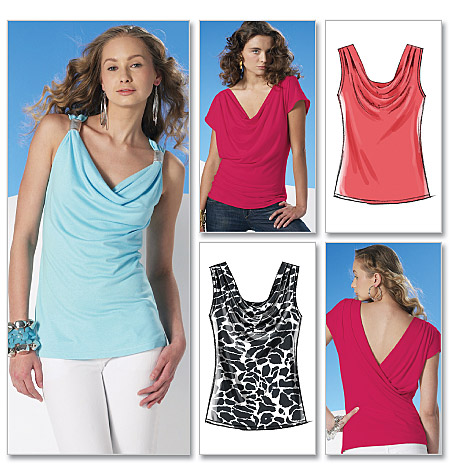 Pattern Description: Cowl neck top
Sizing: XS (4-6) to XL (20-22)
Instructions: They were easy to follow and I thought the cowl neck instructions were easy to follow
Likes/Dislikes: Erin picked this out for another work top with the normal shirt back. The drape and cut of the red one above is a beautiful back but not so appropriate for student teaching. I think this is the prettiest cowl neck, the drape is gorgeous.
Fabric: ITY from fabric.com
Conclusion: This is a great top, quick to sew and a dramatic effect. I am quite pleased and so is she. I think I need one for my wardrobe now
Today is a beautiful day, I am off work early and heading to spread mulch on all my flowerbeds. This weekend is going to be cold and miserable, so I plan on sewing for me. This morning I started cutting out this
jacket
from a blue and white seersucker.