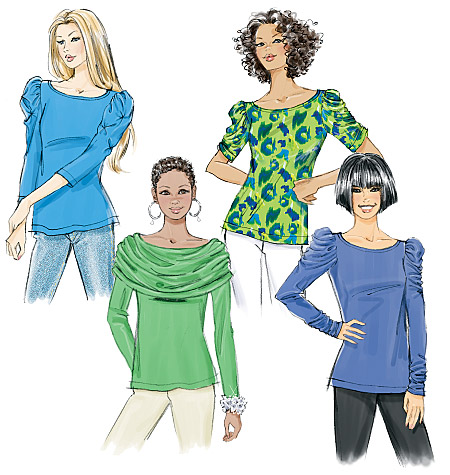 Description:
From the envelope: Close-fitting, pullover tops have stitched hems. View D: draped, gathered, elasticized collar with long sleeves
Sizing:
4 to 26
Instructions:
Pretty good. I had to read attaching the collar a couple of times and look at the illustration but then it all made sense.
Likes/dislikes:
After seeing
Shannon's
and
Amanda's
and
Sharon's
, I knew I
had
to make this top. The drape of the collar is gorgeous.
Changes:
I added 1" to sleeves and body, as always. Several others on Pattern Review have made a casing for the elastic in the collar. I set my serger for a wider stitch, then zig-zagged the elastic onto this seam. I did end up taking up the side seams on my top, it does run a bit big. This is decieving, as the finished measurements on the pattern piece indicate a close-fitting garment.
Fabric:
A lightweight, wonderful sweater-type knit. Wished I could remember where I purchased it, I would buy more colors in this fabric (it sews like a dream and feels incredible)
Conclusion:
I really, really like my new top. I did play with the collar quite a bit - wanted to see which way I liked wearing my top.
Here is the collar pulled lower, I really don't like this look on me frames the chest a bit too much :)
This is a better look for me, needed to drape the collar a bit better for the pictures.
hubby was taking the pictures and he wouldn't stop, so here is the collar in action. I am heading to take my camera out of his hands!