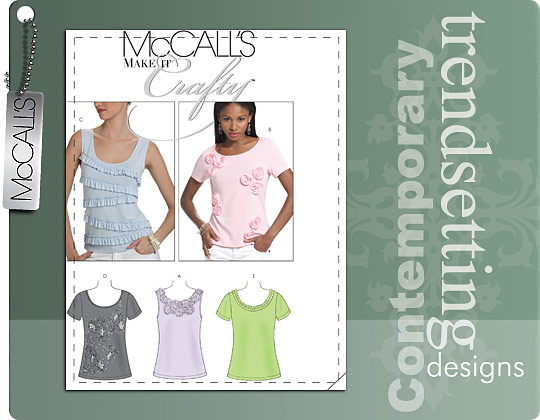 Pattern Description:
Close fitting pullover tank top, t-shirt, with different embellishments. "Make it Crafty" pattern
Pattern Sizing:
XS (4-6) to XL (20-22).
Were the instructions easy to follow?
I didn't even look at them but I will look at them for some of the embellishments. I think McCall's embellishments on this pattern are very trendy.
What did you particularly like or dislike about the pattern?
The embellishments are the reason I purchased this pattern and this time I didn't even use them!
Fabric Used:
A stretch lace from Needle Nook Fabric
Pattern alterations or any design changes you made:
I added 1" to the length for Meredith's height, should have added about 3" total. She is long everywhere but has only recently had me to sew for her again. I am learning all these alterations for her teenage body
I wondered if I would have to sew the lace differently so the seams would not show. I had some serger thread very close to the fabric color and I did a test stitchout on some scraps. I could not see the seam, so I serged the entire top.
Close-up of seam and neck edge
Would you sew it again?
I do plan to sew it again but next time for me.
Conclusion:
Great pattern for a basic tshirt and the plus is all the embellishment ideas. I read in one of my fashion magazines, lace is big this year, so Meredith is right there with the trend.
I think Meredith really likes her top, I made it yesterday and she wore it to school today. Hubby told her what a cute top she had on, "thanks, Mom made it", she responded. He was impressed, which is good but to me it is just a basic tshirt made from some fantastic and unusual fabric for a t-shirt.
Here is Meredith wearing her top early this morning. My lucky day, snapped one picture and then the camera battery died