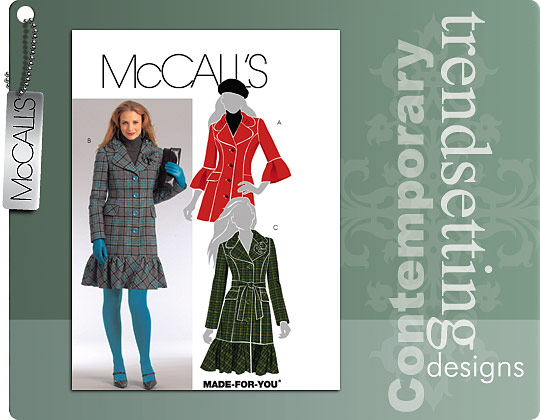 Description: Semi-fitted jacket, above mid-knee length has shoulder pads, princess seams, side front pockets with flaps. Pleated upper collar and sleeve variations.

Sizing: 4 to 18 with pattern pieces for cup sizes: AB, C and D. AB are together.

Instructions: The instructions were very good, as were the illustrations. I thought the lining instructions were some of the best I have seen in a pattern. I did use two of my books, High Fashion Sewing Secrets and Couture Sewing, to help with the construction.


Likes/Dislikes: I liked the lines of the jacket, the length and the pleated collar. After reading through the pattern instructions, I found the pocket construction to be quite unique.

First you sew the pocket flap and baste it to the upper side front.

Next, sew the pocket piece from fashion fabric to the upper side front (right sides together with the pocket flap sandwiched between these pieces).

Now stitch the pocket piece from lining fabric to the lower side front as shown in this picture:

Understitch

and press to the inside:

Match the pocket lining with the pocket fashion fabric, stitch pocket bag

Then you have this for the pocket:

here it is closed and it is a very nice neat pocket:

Changes:
This might be hard for many of you to believe but I made a muslin for this pattern.
I was using some fabulous fabric and I did not want to make any mistakes in fitting or sizing.
I cut a size 10 in the muslin fabric with cup size AB, adding 1 inch to the sleeve length and body length. After constructing the muslin, I decided to use the C cup pattern pieces and added 2" to the sleeves, I can't stand short sleeves on a winter coat.
I emailed Pam Erny for interfacing recommendations and her reply was ProWeft for the coat and if I needed more support in the collar and lapel area, then use 2 layers. Which I did.

I used a piece of interfacing for the roll line as stated in one of the books. Added the interfacing to the hems, back, front and then the pattern pieces recommended on the pattern.

A back stay from muslin was added after interfacing and sewing the back to the side back pieces.

I probably should have used bound buttonholes for this project but I felt my skill for this technique wasn't at the level it needed to be.


Fabric: An incredible wool-lycra from Brigitte, after she sponsored a contest in February 2009 and I won. Also, included was a beautiful vintage lining.

Conclusion: I am so pleased with my coat. It took all of December plus the first week of January to construct but it was so worth it. A big thank you to Brigitte for selecting this fabric, it was a joy to sew.


Side view: