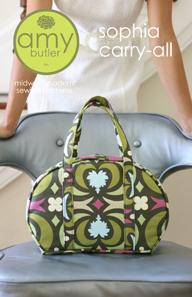 Pattern Review
Pattern:
Amy Butler's Sophia Bag
Description:
Inspired by romantic travel films of the early 60s. Stroll around town with this comfortably sized carry-all
Sizing:
One Size
Instructions:
The instructions are very thorough and helpful. Be sure to read each and every step, I know this from experience. I hand sewed the lining around the zipper and looked at the inside of my bag. Something wasn't right, the lining was hanging down to far. I went back and checked the instructions, I left out a step, tacking the lining seam to the bag seam. So I unsewed, tacked the lining and the hand stitched the lining again.
Likes/Dislikes:
I really like the look and the shape of this bag, it is so timeless. I also like the long zipper, that helps in getting into the bag.
The only dislike, I want to make several for Christmas gifts, but I am not sure I will have time. This bag does take some time to cut out, fuse the interfacing and construct. I think I at least 6 hours in this bag.
Changes:
I did make several changes:
The main change was substituting Peltex for fusible fleece on the side panels and the edge panels (the panel below the zipper). I wanted a stiffer bag than the fusible would present and the Peltex seemed like the best solution. It was, I am quite pleased on how the bag holds it shape. I did trim away the extra Peltex from the seam allowance.
Another change, I used plastic canvas in the bottom of the bag and used bag feet. I read this on a blog and it was a great idea.
Thanks to the reviews on Pattern Review, I left off the piping at the bottom, much easier to sew.
Also, I added a pocket to one side between the ha
ndles. You need an outside pocket, right?

Fabric: I wanted a quilting cotton that was timeless as the bag. Also, I didn't want a trendy fabric that would go out-of-style. Too much work is put into this bag for it to be so last year quickly!

If you plan on making the Sophia bag, and you should it is a great bag, pick out your zipper first. It is a 22" purse zipper and the color selection is limited. If you pick out a fabric with a unique color scheme you may not be able to find a zipper to match.

Conclusion: A wonderful bag with a fabulous shape. Amy Butler designed such a winner here. I cut out the Weekender yesterday so I could have houndstooth luggage set.

Oh, yes, invest in a piping foot or a welt piping foot? That will aid in the construction of this bag, the piping fits right into the groove and you can guide all these layers much easier.

BTW, if you have the Weekender pattern, can you look on the back and tell me what pattern is in the SUV? I think it was one of Amy Butler's first patterns, the duffel or something like that? I would like to find a copy and make that so I would have a 3-piece houndstooth set