Yes, I did sew something. What was that a crash from you the readers of my blog falling on the floor in disbelief? LOL. I know it has been quite awhile since I have sewn a garment. This Jalie top is quite a winner.

Jalie 2787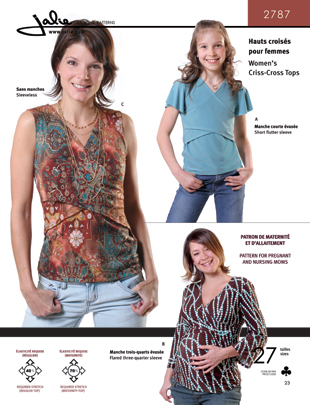 Description: Top with criss-cross front. View A has a short flutter sleeve. View B has a flared ¾ sleeve and view C is sleeveless.

Sizing: Girls size 2 to 13 and women's 4 to 22

Instructions: They are good, remember you can print them from the Jalie site. If you use the instructions in the package, they are printed on the heavy pattern piece paper.

Likes/Dislikes: I like the looks, interesting criss cross feature. I did like the ones I had seen on Pattern Review that had used a contrasting fabric to trim the cross sections. This really makes the design pop and I think gives more waist definition.
Changes:
I added 1" to the length and to the sleeves
Fabric:
Knit from Fashion Fabrics Club, I really like the jewel colors for fall. The black is from stash.
Conclusion:
Great pattern that puts a dressier spin on a t-shirt. I think it would make a cute dress, too.