Pattern Review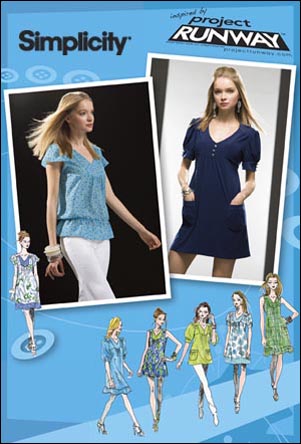 Pattern:
Simplicity 2942
Description:
Project Runway pattern, Juniors'/ Juniors' Plus dress, mini dress and tunic with sleeve variations.
Sizing:
5/6 to 25/26+
Instructions:
Very good, this pattern has nice written instructions plus many diagrams. This pattern can be for beginner to more advanced sewer, depending on which options are chosen for the garment.
Likes/Dislikes:
I made this for my 18 year old daughter and she liked the style right away. It is a flattering, stylish pattern for a teenager.
My only dislike is the fabric requirements. Simplicity lists the fabric for the basic dress, then you add on for the sleeve styles. You can quickly purchase too much fabric.
Changes:
My daughter is a softball pitcher (heading to play college softball in the fall), with this in mind I made a broad shoulder adjustment. I just purchased, "The Perfect Fit" book and used their broad shoulder adjustment (minor adjustment). I also lengthened the bodice 1" and transferred this amount to the back (one long piece) and the 1" to the bodice lining. RTW tops in this style always hit her too high so this adjustment really makes a nicer fitting garment for her. I added some length to the dress, it looked quite short on the pattern envelope. This was a good thing, as I compared the finished dress to one of my daughter's RTW dresses. I had 1" hem to turn up.
Design changes – I added piping to the front at the seam between the upper front and the upper side front. Also, piping between the band and the sleeve. I redrew the sleeve pattern and sleeve band so these pieces did not have the curve as Simplicity designed them. I thought my piping would be much easier to apply with a straight pattern piece.
Fabric:
A rayon jersey from Joann's.
Conclusion:
This fits my daughter beautifully and she is quite happy. Unfortunately, you won't see her modeling it. Yesterday she had shoulder surgery (yes, the pitching arm) and she is in a sling for 2 weeks. All is well, as the doctor believes she will be back throwing by September.
This is a cute dress with some very nice design features and doesn't take a long time to sew.
My apologies on the blurriness of the pictures. My camera focused on the flowers and not the dress. I just went outside for a quick couple of pictures, as I was very busy being the nurse today!
Garden shots - Hydrangeas are big and beautiful
Corner of my garden.
Today's fun, my friend's quilt shop opened today. The twins and I went up for just a bit but managed to purchase 2 bags full of fabric. Meredith (the sewing twin) bought fabric for a lap size quilt, she did quite a bit of sewing on it and will probably be done this weekend. I bought a new purse pattern and fabric for several more purses. I might be brave and make another Amy Butler's Weekender bag. Wish me luck!
Meredith also made a fabric belt from this book "Pretty Little Patchwork", a very fun book with great projects. She isn't very interested in clothing right now but that is fine, she is sewing and loving it.