Another wonderful opportunity has come my way, an opportunity to sew a dress from
Itch to Stitch.
This is a new pdf pattern company and I was delighted to be able to sew this new dress, the
Marbella Dress.
(which is on sale for $12)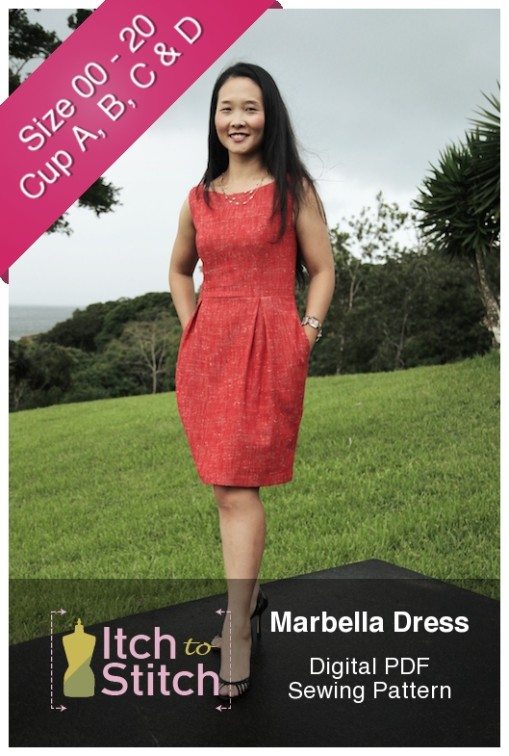 MARBELLA DRESS design features:
A wide boat neckline that dips a bit lower than the traditional boat neck
Front and back yokes allow for color blocking
Feminine princess lines that allow for a close fit in the bodice
Roomy, slightly-above-knee tulip skirt
Functional in-seam pockets to fit your cell phone, keys, lipstick and even a slim wallet
Invisible back zipper as closure
MARBELLA DRESS pattern features:
Twelve sizes from 00 to 20
A/B/C/D cups (no more bust adjustments!)
Lined and unlined options
Lengthen/shorten guideline on bodice and skirt
Instructions for high-quality finish
Print only the size(s) you need with "layers" feature (no more mingled lines!)
Let's talk about the last feature. It is fabulous and easy to use, On the left side when you have Adobe, you just select the size(s) you want. Also, the instructions tell you which pages you need to print for which cup size.
I printed a size 10 with a cup size C, I did have to do some adjusting in the waist to get a nice fit. I would recommend making a muslin or sewing your lining first to adjust. When I make this again, I will go down to a size 6 or 8 in the waist, so double check the pattern measurements.
My main change was to lengthen the bodice 1", my usual change.
I loved the instructions for this dress, they were very thorough and helpful. The construction order was perfect with good sewing direction along the way. For example, when to understitch, and nice illustrations on how to clip the princess seams.
The only thing I don't like about my dress is the fabric, a Mood Fabrics' cotton suiting, it wrinkles like crazy and is hard to press. I will be making this dress again with a fabric I love, the dress deserves a perfect fabric.
I feel the fabric is making the funny lines in the center front of the bodice. It was such an issue to press and once I finished one area and moved to another area, wrinkles came back in the fabric. Grrrr.... look at the features of this dress and not the lines of my fabric. Also, you get two photos today, hubby took the pictures and he cannot seem to focus the camera. I will be using the tripod from now on!
With this opportunity for me, is an opportunity for you.....

Kennis Wong, owner and designer of Itch to Stitch

has given me the opportunity to give a pdf download of Marbella Dress to a lucky reader. After you read all this blog post, leave a comment about the feature you like best about this dress. I will draw the winner and announce the winner on November 3rd
I am also an affiliate with Itch to Stitch, which means if you buy the pattern by clicking the link below, I will receive credit for the purchase
Just Click here for the purchase
Disclosure
- I was provided this pattern for my review of the Marbella Dress