I have made a little bit of progress on my jacket since
Wednesday's post
and I thought I would share a bit of my progress. First, the book I am using to help improve my tailoring skills,
The Classic Guide to Sewing the Perfect Jacket - Tailoring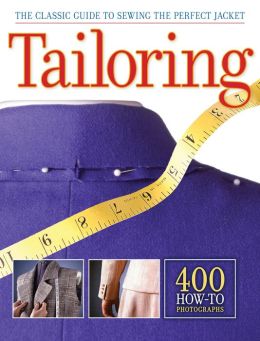 Source: Barnes & Noble





One more step before I could sew, adding interfacing for shoulder reinforcement. I used
Fashion Sewing Supply's Fusible Hair Cloth Canvas
for this part
Next up, the most apprehensive part for me - BOUND BUTTONHOLES! A few weeks ago, I purchased,
Did You Make That's The Bound Buttonhole e-book
. What an excellent resource to help me make these bound buttonholes. I used all the steps and made two test buttonholes, which went together very smoothly with the help of the e-book. There was only one problem, the fabric I had cut for the welts frayed like crazy. What next? That was the question of the day. My first thought was to used a contrast for the welts, a denim I used
on my pink Burda pants
. I made another bound buttonhole with the pink and put the picture up on Instagram for a vote on which fabric.
Do you have a preference? The self-fabric won on Instagram, so self-fabric it is. One thing from the pink denim I learned is the fabric did not fray and that made the process much easier. At the end of the
e-book, Karen has other sources for bound buttonhole tutorials. That started me looking for another method for the fraying fabric. I went with
Sara's from Colette Patterns
.
The main difference - Karen's e-book as two small pieces for the welts, Sara's uses a large bias-cut rectangle and you fold the lips. The larger piece worked better for my fraying fabric.
I did use all the markings from Karen's e-book, wanted to make sure the buttonholes were straight down the front and level.
Another change, I sewed my buttonholes on the wrong side. My fabric has so much texture and colors, my basting lines were very hard to see. This worked well and here is a buttonhole, between the wording. I am so pleased with the two buttonholes on the yoke piece.
Next I attached the lower front to the yoke and the lines vertically match so nicely (it did take 4 times!). I maybe should of matched the horizontal lines but this is pretty darn good and I am very pleased.
Now I plan on doing the last two bound buttonholes on the lower front. I wanted to get the two pieces seamed together so the spacing was equal between the upper and lower piece. Maybe I will get to these tonight, we will see as grandson is coming to spend the night. His parents are having a get-away for their anniversary. All four of us (hubby, twins and I) are so excited, I think the little guy will get spoiled a bit!