When I saw
A Fashionable Stitch's
first pair of Burda 7447 pants and then she made a
second pair
, I knew I needed to make a pair of these. I had the pattern, just needed some fabric to try them out.
Here are my pants
Here is the envelope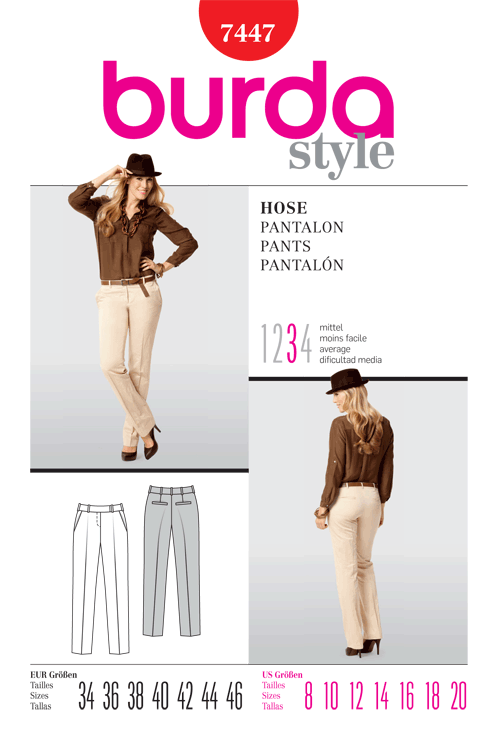 Pattern Description:
Semi-fitted Pants, probably more fitted than semi-fitted.
Pattern Sizing:
Size 8 - 20. I made the 12 (38) which is what I make in most Burda patterns.
Instructions:
They were good, especially for Burda. I even followed their welt pocket instructions, took a couple of read-throughs but I grasped the concept. Plus, this is the first ever pant welt pockets, I have sewn.
Look they are even!
The instructions went in a nice order, easy to understand and follow.
Changes:
I made none this first time. I think for the next time, I might make them shorter, like to wear with flats. I did not add length and I need to wear heels with this pair. I was getting funny wrinkles in the front, around bottom of the zipper. I pulled out my fitting book, one thing they said was the hem was too long. I folded up the hem and no more wrinkles. Easiest fit fix ever.
Also, I might use a size 10 for the back of the pants, they are a bit loose. See if that helps the problem.
Fabric:
A stretch denim from Hobby Lobby, not crazy at all about the fabric or the look but it worked for a muslin, which turned out wearable.
Conclusion:
A classic style of pants.
With a sweater, which looks okay.
But I like them best with a blouse
Two things after this picture taking session, I need to make more blouses and I am heading to cut out another pair. This time crossing this pattern with
Sewaholic's Thurlow Trouser
and use real denim this time.