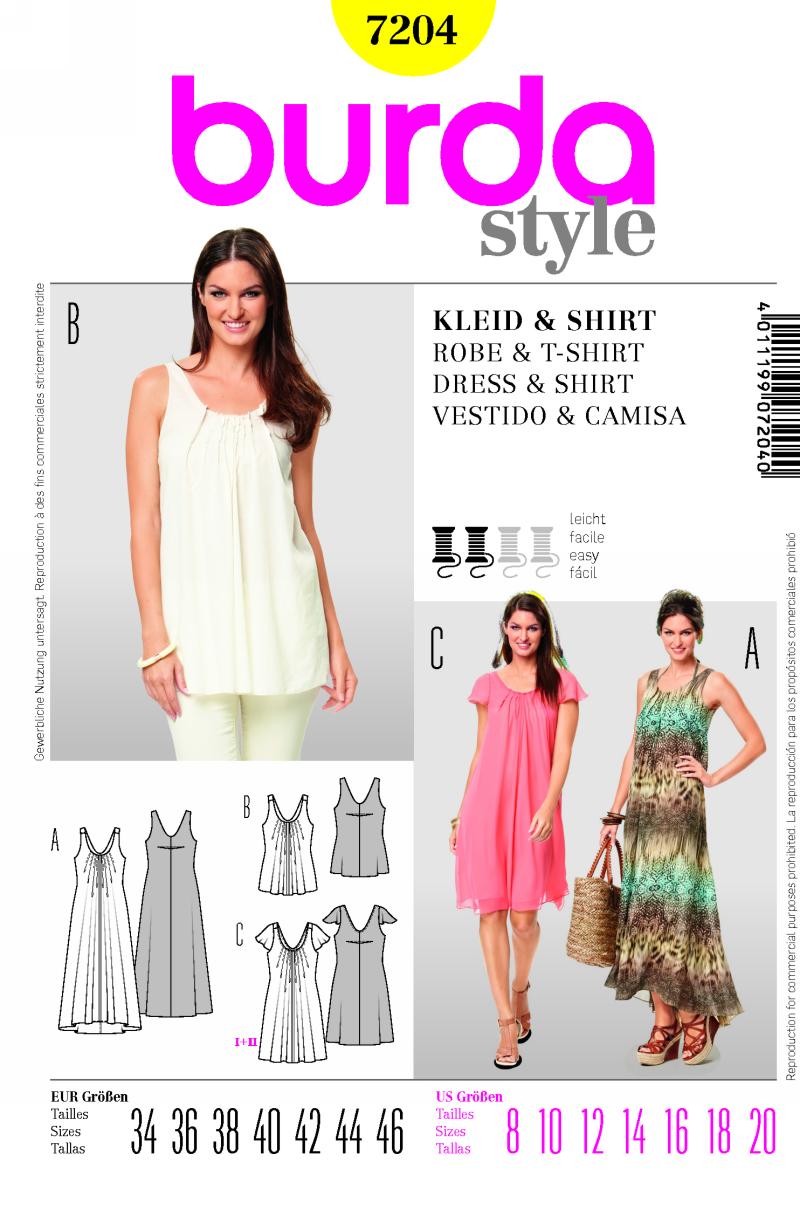 Description:
Dress and Shirt, with pleats, back dart, sleeve option. The front and back have a low round neck.
Sizes:
8 to 20
Instructions:
They were good for a Burda pattern, there is only 2 pieces if making the sleeveless top, 3 if making it with sleeves.
Likes/dislikes:
First the likes:
A great looking pattern which will work perfectly for a maternity style top/dress.
a nice dart in the back to add shaping. This also seems to make the back shorter than the top and adds to the maternity needs for the added length needed for the pregnancy belly.
This picture shows the dart – in the orange and aqua area:
The only dislike was the amount of ease in the garment, this is pictured pretty accurately in envelope picture. Especially in the orange dress.
Changes:
I made the first pattern with no changes then I made various changes on the last two garments. The pattern has you stitch the pleats on the right side and I did that the first time
but I really didn't like how it looked. So the next two times, I did the pleats on the wrong side, which resulted in a smoother look
and here:
Next I went to work on the fit
The first time I took some out of the width on the side seams, even though this is a maternity top for Erin, I felt it was too full.
The second version, the dress option. I took some out of the width also. This fabric was a linen and a bit stiff without much drape. Too help compensate, I put in a elastic waist casing in the upper back.
here is a side view:
I thought if Erin needs the room, then I could remove the elastic.
On the third version, I figured out this fit thing, at least I think! I cut the back at her normal bust size tapering to the smallest size below the waist. The front I cut at her normal size. This seemed to make all the difference in the look of the top.
Fabric:
The tops are made from a rayon blend from Hancock's, the dress is made from a linen purchased at Joann's
Conclusion:
A great style that will work from now until the end of Erin's pregnancy. I think the tops will look very cute with a cardigan and the dress will be good with or without a cardigan.
First Version:
Second version – dress:
Sleeves on dress:
Third version and my favorite:
If you make this pattern, go with a rayon type fabric or a fabric with good drape. You will have more favorable results.