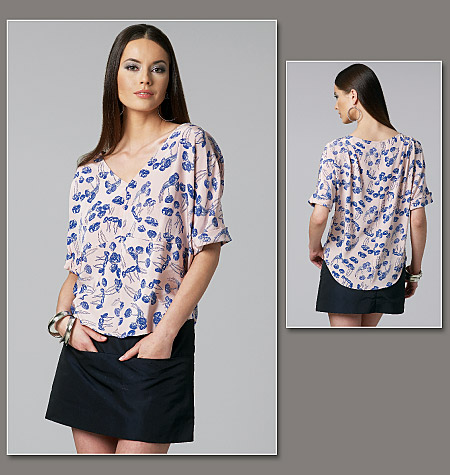 Pattern Description:
Vogue designer series, described as very loose-fitting top and a-line skirt.
Pattern Sizing:
sizes 6-18, I made a size 10.
Instructions:
They were easy to follow. The blouse calls for french seams, and Vogue's instructions for these were very good. I liked how they were included with the construction steps and not put in the general sewing information. I really liked how the top when together, the front darts add great shaping.
Likes/Dislikes:
It was one I have seen on Pattern Review for a few months and it grew on me. The pattern was purchased with the skirt in mind but after seeing
Sunny Sewer's review
, I was sold on the top. I usually don't wear this style of top but thought I would give it a try.
On the end of my sleeves, I have this bit of a up-curl, think it is the bias and stretch of the linen. I did was my top after construction and that did help it a bit.
Fabric:
A linen from a free bundle with a $75 purchase at Fabric Mart. I had forgotten how wonderful linen is to work with. It presses so nicely while sewing, just have to put up with the wrinkles while wearing.
Conclusion:
I am happy I made this top, our temps have been so high and this will be a nice top for hot weather. I don't think I will make it again but happy I did try it once.
Here is a picture on me,, just slipped it on with my shorts. You can already see the wrinkles just from putting it on.
*****************************************************************************
On the sewing list (which is pretty long) is the skirt and I will take
Sunny Sewer's advice
to add 6" to the hem of the skirt.