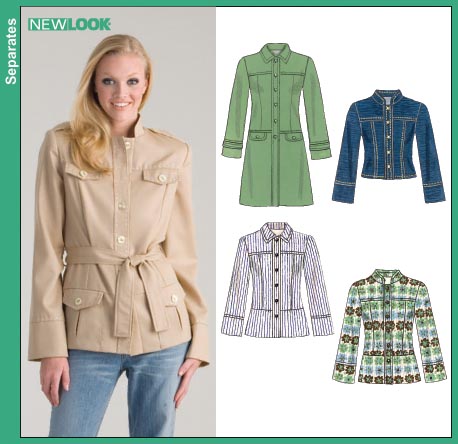 ** Added a picture of me wearing coat at bottom of post**
Pattern Description: Misses' unlined jacket in 3 lengths, two collar options.
Sizing: 6 to 16
Instructions: They are very good, concise and easy to follow. The pattern includes several options to create a jacket with many different details. With this in mind, I found the directions to have a nice order.
Likes/Dislikes: I wanted a lightweight spring jacket with military influences. This pattern was just what I had in mind. I have had it in my pattern collection for quite sometime, happy to finally use it. The long cuffs were a nice detail, too.
Here is the pockets:
Changes: Only adding length to the sleeve.
Fabric: A cotton twill or drill type of fabric, found it a Wal-Mart on Thursday for $1.50 a yard. My buttons were the highest priced items to this jacket. I went to Joann's this morning to find buttons, these were the only choice with 12 buttons in stock. $4.00 a card but I had several coupons and then a 25% off the total purchase. The fabric wrinkles a bit when handled but I don't mind that too much, it
Conclusion: This pattern has many pieces and took me quite awhile to cut out but it was so worth it. I really liked how the pattern went together and the finished garment turned out better than the picture in my head (which is always a good thing). Hoping the weather cooperates so I can wear my new jacket this week
the jacket has funny drag lines in this picture, I didn't take much time outside arranging it on my dressform - too cold!

Look at the picture above- I sewed the cuff tab backwards on one of the sleeves! Oops have to fix that.