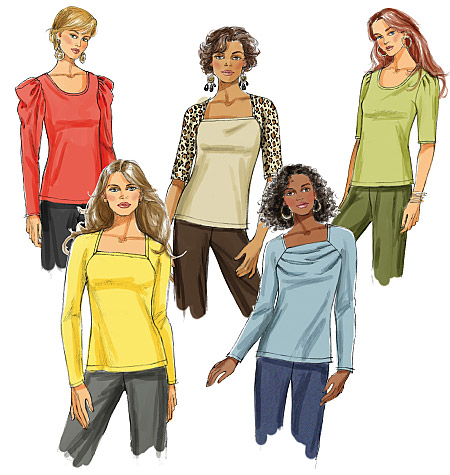 Description:
Close-fitting, pullover tops with neckline variations. Long or below elbow length sleeves.
Sizing:
6 to 20
Instructions:
They are pretty good,
Likes/Dislikes:
All the different sleeve variations is the reason I purchased this top, then I go and make one with the basic sleeves, go figure. I didn't like how wide the neckline was. This might be in part due to the size I made. I went up a size because my fabric is polyester but feels and acts like a rayon jersey. I feel rayon jersey is a bit clingy and I didn't want the top clinging me. I probably should have used my regular size in the shoulders and then graded a size bigger in the bust and waist and hips.
Changes
: I didn't like the pleating on the View C - the pleats are folded up, I changed this to fold them down. Here is a close-up:
Also, the neckline was very big on this shirt. I knew I would not wear it as is and added some 1/8" elastic to the neckline. The instructions have you turn in the neckline and stitch the hem. This hem had a natural casing so I inserted the elastic to help draw in the neckline. The front of the shirt has its own facing, so you are only hemming three sides, this leaves a small opening between the front and sleeve in the hem to insert the 1/8" elastic. Make sense?
A picture of the neckline, you can see a bit of the gather
Fabric:
A jersey from Gorgeous Fabrics. She has it available in a different
colorway
Conclusion:
The shirt is bright, so I will probably always wear it with a cardigan or jacket but I do like the pattern and am anxious to try View D.
I finished Jalie 2919 today and think the two look great together. Here is original
review for 2919
and orginal
blogpost
.
The fabric for this Jalie is a thin sweater knit from Joann's. I bought all that was left, so I had to cut the collar band half the pattern width.