Pattern Description: Empire waist dress or tunic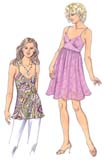 Sizing: XS to XL
Likes and Dislikes: My daughter, Meredith liked the style of the tunic top. In fact, she had just tried on a RTW top in this style the day before but decided it was too pricey to purchase. The next day we went to Needle Nook fabric on our way home from vacation. Meredith looked through the Kwik Sew pattern book and found this pattern, just the style she had wanted. Another like, it looks just like the pattern envelope illustration, no surprises. Meredith's dislike might be it is a bit big for her right now, so her twin, Kaitlyn gets to wear it first. I made Meredith an XS size.
Fabric: A beautiful stretch fabric from Needle Nook, it was a dream to sew.
Would you sew it again? yes, I would, it looks darling on my girls. I think it would be a cute style for a Homecoming or Courtwarming dress. Not sure they agree.
Recommend it to others? Yes, another winner from Kwik Sew, it is easy to sew and the finished garment is stylish and trendy.
Conclusion: Great pattern, dream to sew and when your daughter wears it right away, you know that is good!