I enjoy browsing the Anthropologie site for sewing inspiration and when I saw this Headwaters Tee, I knew I had to give it a try. Isn't it wonderful?
Here is the
link
to the Anthropologie site, you can use their zoom feature to really check it ou.
I emailed Anne at Needle Nook for fabric ideas and she sent me a remnant of a poly blend sweater knit and we discussed on the phone ideas on recreating this look.
I started with Jalie 2005 for my pattern.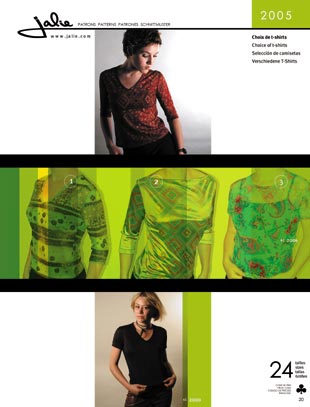 After sewing the shoulder seams, I started making the ruffles. The two bottom ruffles are 2" wide and the length of the fabric (selvedge to selvedge). I pressed it in half, wrong sides together and sewed a basting stitch on the cut edges. This basting stitch held the layers together and I needed to gather the strip just a bit. The gathering helped shape the ruffle strip into curve.
I marked the front 4" from the neckline and 1" from the back neckline then pin the ruffle strip to the shirt. After I pinned and adjusted the gathers, I stitched this strip down using a small zigzag.
Time for ruflle strip two, placing it on the tshirt to cover the row of stitching from the previous ruffle strip.
Once the two layers were complete it was time for the long strip which meanders down the front and side.
I cut this piece 2-1/2" wide and needed 2 lengths of fabric for each strip (with a little leftover). I used the Anthro picture for placement. I just pinned and repinned until I had the look I wanted. The fabric was easy to stand up and once it was all pinned, I stitched with a small zig-zag.
I did the same for 2 more rows of long strips. Making sure these strips are placed closed to the previous stitched ruffle.
Once all the ruffle strips were in place, I constructed the tshirt as per the instructions.
Neckline on left side:
Neckline on right side:
Next time I will do a better job catching these raw edges
Shirt pictures:
Conclusion: Great fun recreating this garment. A couple of things I will do differently for the next time:
Use a different pattern or adjust this one - the arms are tight.
Use a lighter weight fabric, this top is heavy with all the extra embellishment.
I am so pleased with the top and the experience and plan on doing more of this RTW-inspired garments.
I am sharing this on:
and