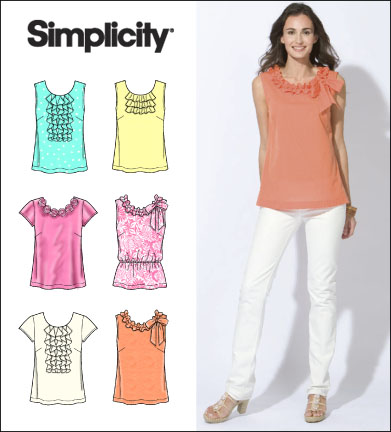 Description : Misses Tops With Trim Variation: Separate Patterns For B,C,D Cup Sizes
Pattern sizing : 4 to 20
Thoughts on pattern: My finished garment did look very much like the envelope, the instructions are good and easy to follow.
What did I like: I liked the ruffle neckline, the various views and the best thing is the B,C, and D cup option
Fabric: Lightweight lawn
Pattern alterations: My main design change was due to my fabric. The lawn was very thin and I knew if I made it with one layer, then a camisole would be necessary. I didn't want to wear a camisole, so I cut two layers of lawn for the front and back and used one as a lining.
I sewed the darts, shoulder seams and side seams. Then I matched the necklines and sewed the two garments together. This elimated the need for a facing and solved my problem wiht the thin fabric. I then followed the pattern instructions for the armhole fachings and the ruffle. For the elastic casing, I pinned the two layers tother, measured and marked the casing. Sewing through the two layers, leaving an opening to insert the elastic. The final step was to hem the garment, I turned up the bottom edges of each layer 1/2" and sewed the bottom closed, creating a nice hem and finish.
Conclusion:
I will probably sew it again, great layering top and I think a nice woven with a bit of lycra would be perfect for this top. This is a nice, new garment for my closet, to help with the last month or two of summer days. After a while you just need something new and different to wear, right?
I probably will wear it with a cardigan for work.