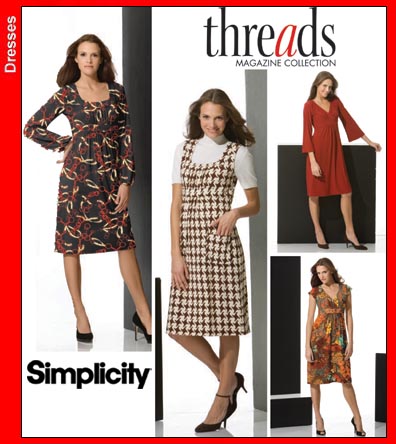 Pattern Review

Description:
Misses' knit dresses with neckline and sleeve variations.
Sizing:
8 to 16, I made a 12. I couldn't find finished measurements on the pattern pieces. I am not sure if I was in a hurry and didn't see them or they were not there. I should have made a 10.
Instructions:
The instructions were good but it was pretty straightforward construction.
Likes/Dislikes:
I liked the style and the quickness of construction. This is for #2 daughter's high school graduation on Sunday. I needed quick and cute. I love the shaping of this dress. Take a look at the line drawing, there is a band piece between the bodice and the skirt but the skirt pieces have a very nice waist shaping. Flattering style.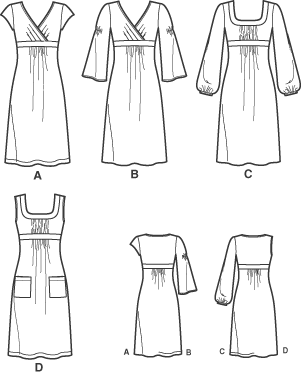 I also like the sleeve - it is cut out double. They have the piece mirrored at the bottom but you could cut it out on the fold. The sleeve seam is sewn, pressed and you fold it right sides together and ta-da no hemming. Here is a picture.
This is such a great idea and easy to incorporate in other patterns. I do think you will have to consider youre fabric and fabric weight.

Changes: I did not cut out the pattern piece for the binding. Instead I measured the pattern bodice pieces subtracted seam allowances and another 3" for stretch. Cut the binding 1-1/2" wide and applied this. I turned in the binding used my coverstitch machine to stitch down the binding, trimming away any excess binding. I added 1" to the bodice for my long torso. The view I made has the crossover bodice, I lapped my bodice an extra 1/2" since I cut a size too big.

The skirt section was too big for my tastes, I took in each side ½" from the waist down. After trying on my garment, I felt the back of the skirt stood away from my body too much. There are gathers in the skirt and I didn't want to disrupt the look of these. I marked a dart placement and put a 4" dart just below the back band. This dart was 4-1/2" each side of center. This really helped with the fit of the dress and you can't really see the dart with the paisley print. A picture of this - I added text to show the dart placement:
For you sewing experts, does this mean I need a sway back adjustment? Or is it just the style of the dress?
The dress was long, too, I only added the 1" to the bodice, yet I took 4" off the dress.
Oh, yes, one more. I added 1-1/2" to the sleeve length. Cap sleeves aren't flattering on me.

Fabric: A wonderful knit from Ressy's coop

Conclusion: Just what I needed for my daughter's outdoor graduation. I couldn't of asked for a nicer dress, which didn't require a lot of time. I would like to try the rounded neck version for winter.
In case it is a bit chilly, graduation is outside:
Gotta have new shoes:
I will post a picture of me in the dress on Sunday.
Graduation preparation update:
House is clean, food is purchased, dress is made. I didn't get the windows washed, might get to that this morning, we will see.
DD#2, Erin, runs state track today and tomorrow, senior scholarship night also is tonight. That will be a problem, as she runs one event at 6:30 p.m. and scholarship night is at 7 p.m. The problem, the state track meet is one hour from home!
What a great way for her to end her high school career. I am wishing her good luck and fast legs.